Tempers flare as Dallas officials, residents discuss shootings by police
With a national spotlight on shootings by police, three top Dallas law enforcement officials went face to face with residents with a message: Dallas County is not Missouri.

Dallas Police Chief David Brown, Dallas County District Attorney Craig Watkins and Sheriff Lupe Valdez answered questions during an often-contentious town hall meeting Monday night about police shooting investigations.

The meeting at St. Paul United Methodist Church in downtown Dallas came as unrest continues in Ferguson, Mo., over the fatal shooting of an unarmed man.

Dallas County is weighing a proposal to add investigators to look into police shootings independently of the department. SOURCE
Someone answer me this question, and answer honestly; look at the expression on the face of the young man standing in the middle. Do you think he isn't FULL of pent up anger? Do you honestly believe that he doesn't have a strain of hatred running through his very being that hasn't been nourished since birth?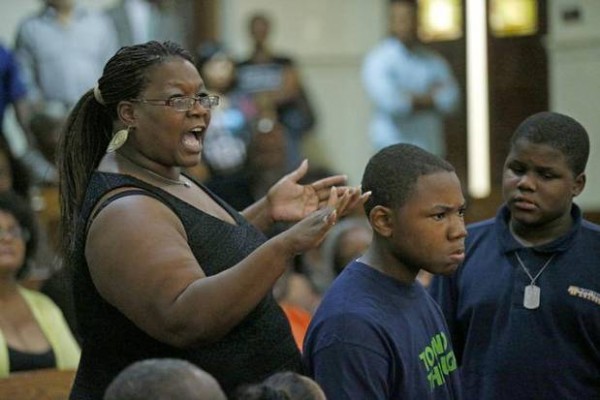 After Monday's town hall meeting ended, Audrey Hays yelled at the speakers about not listening to questions. The panel included Police Chief David Brown, District Attorney Craig Watkins and Sheriff Lupe Valdez.
For those not knowing; Dallas Police Chief David Brown is a Black man, Dallas County District Attorney Craig Watkins is a Black man and Dallas County Sheriff Lupe Valdez is a Hispanic Lesbian. That is the makeup of the Law Enforcement leadership of Dallas County amd the City of Dallas, TX., a field of PROUD minorities and Liberal Democrats.
It appears, at least to me, that this particular group of Liberal Democrats hasn't done anything to dissuade the thought process of the young man pictured above as he seems to be looking for someone or something to unload his anger on. Honestly, I am hoping what I see in this picture, other than unbridled anger, is an awakening.
I don't know Audrey Hays or the young men in the picture with her but I am guessing that Ms. Hays might simply be looking for answers that the Democrats just don't have. Maybe she too is having that awakening.
"What we're saying is we need to restore the public's trust," Watkins said. "We need an independent voice."
Well, it looks to me like none of YOUR answers are doing the trick Mr. Watkins, citizens have lost a lot of faith in the District Attorney's office and the leadership of the Dallas Police Department and Dallas County in general.
My friends, Dallas, and a good portion of Dallas county is run by Liberal Democrats and scenes such this stand in testament to the failed leadership of the Democratic Party; no answers, no thoughts other than what can be done to keep a high paying job and is it possible to get people like those pictured to fall for the BS once again.
I don't know if there are still any Elvis fans out there, but if there is, you'll recognize these few lines from a great song that fully illustrates what so many in America are seeing today.
People, don't you understand
The child needs a helping hand
Or he'll grow to be an angry young man some day
Take a look at you and me,
Are we too blind to see,
Do we simply turn our heads
And look the other way
I hope the anger I see in the face of that youngster isn't set there for the rest of his life, I hope he can direct that anger properly and affect the changes necessary in this nation. I hope the little guy has seen through the LIES of the Democrats.
The United States is like a gigantic boiler. Once the fire is lighted under it there is no limit to the power it can generate. ~Edward Grey~
This nation is a pressure cooker and the lid isn't too far from blowing off. Maybe the powers that be need to think of this; to hell with fixing other nations, fix America FIRST!