How has America gotten into this *mess* we now find ourselves in? The picture below and hopefully, my commentary, will shed a bit of light on things for those that fail to see the reason, and the truth behind this conundrum.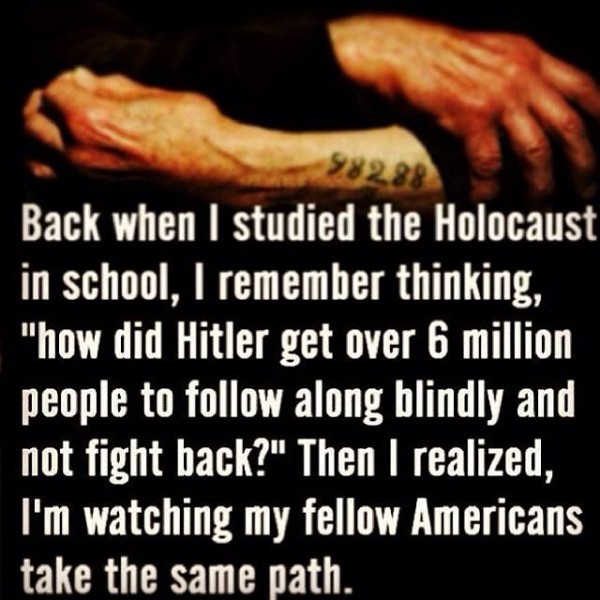 It all starts with the poison called Political Correctness, we can't offend anyone, for any reason, no matter what. Then it's followed by the removal of prayer in school or at a public function while our children are taught about the cultures of other nations, and not taught in an educational manner, but in a *this is how WE need to be* format.
Then they regulate medicine and medical treatment and dictate what YOU can eat, the food a school must serve your children, you can't pack an old-fashioned lunch anymore.
They want to dictate where you can live and what car you can drive, IF you're allowed a car that is.
Then they run a *ROCK STAR* campaign to get a useless POS like Barack Hussein Obama elected into a position of ultimate power over the people, and the people fell for it, twice.
The government LIES to us, they *spin* everything and encourage their minions in the news media to LIE to us as well. They don't want to embarrass The BOY King, and to top it all off, the government encourages Hollywood to turn out the most mind-numbing and senseless drivel imaginable; all Liberal all the time.
These are words of TRUTH; those that fail to learn from history are doomed to repeat it.
I taught my kids to speak the truth, ALWAYS. My theory was this; if you come to me with TRUTH, no matter what you did, it won't be nearly as bad if you start out by telling the truth. Ask my kids how many times they heard that growing up, they comment here and they're on Facebook.
My beliefs regarding Political Correctness? There are things that must be said even if half the nation is offended. There are some things that need to be said and if your intent is to garner the attention of some brain dead Libbers you may have to get in the mud to wrestle that bunch of pigs. Once in a while you just have to get down and dirty to make a point.
Our nation is being destroyed from within and Political Correctness, coupled with the fear of being offensive by speaking truth are the primary issues causing it.
The Democratic mantra today is; evil and lies are GOOD, truth and justice are BAD, and so it cascades down the hill.
But I am willing to help, and I will try, I mean that seriously, I will try to not call Obama and his people the *N* word, not because it's politically incorrect but because I have no desire to offend decent, Conservative and hard working Blacks. If it will help make peace among the people I will do my part to help. Just don't get all pissed off if I reference *shaved gorillas* on occasion.
Be careful what you ask for, you may get it. 😛
America is in the worst position we have been in during my almost 61 years around here and I don't have a lot of *physical* fight left in me, but depending on the outcome of the November elections we Conservative Americans, the American Patriots may be forced to take a stand and fire that shot, the one that WILL be heard around the world.