Officials fear Ebola's on AIDS path; some disagree
NEW YORK (AP) — Is Ebola the world's worst infectious disease threat since AIDS?

Comparisons between the two deadly diseases surfaced in the last few months as the Ebola outbreak escalated. Both emerged from Africa and erupted into an international health crisis. And both have been a shocking reminder that mankind's battle against infectious diseases can take a sudden, terrible turn for the worse.

In his three decades in public health, the only thing like Ebola has been the AIDS epidemic, said Dr. Tom Frieden, head of the Centers for Disease Control and Prevention.

"And we have to work now so this is not the world's next AIDS," he told a meeting of the world's economic leaders in Washington last week. SOURCE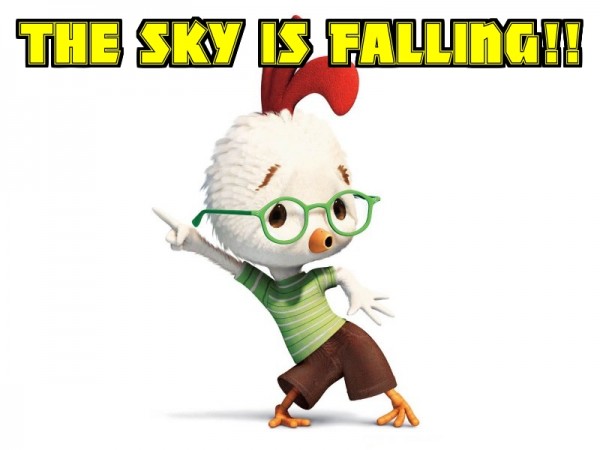 Henny Penny and Ducky Lucky couldn't be here for the announcement that the sky is falling, you see, they are both in a temporary quarantine, it seems BOTH had been in an area known for Ebola and had been, originally, an idea for a dinner party, not as guests, so let me throw another scare into the mayhem; is Ebola a threat to the food chain?

But not to worry; it seems that the Obama regime has everything well in hand. Yes indeed, Obama has, in typical Obama fashion, appointed a CZAR to handle the Ebola crisis.
Senior Republicans criticize Ebola 'czar' choice for lack of medical background
Senior Republicans on Capitol Hill Friday criticized Ron Klain, President Obama's choice to be "Ebola czar," as a figurehead with no health background.

"Given the mounting failings in the Obama administration's response to the Ebola outbreak, it is right that the president has sought to task a single individual to coordinate its response, "said Rep. Ed Royce, R-Calif., chairman of the House Foreign Affairs Committee. "But I have to ask why the president didn't pick an individual with a noteworthy infectious disease or public health background?"

Klain, a longtime political hand, served as chief of staff to Al Gore and Vice President Joe Biden but has no apparent medical or health care background. SOURCE
Never mind the fact that this guy has been nothing more than a *yes man* for Gore and Biden, never mind the fact that he knows NOTHING about the medical profession of how things work within the profession; he has absolutely NO experience with situations such as this.
Wait, no experience? That's why Obama appointed Ron Klain, he has NO experience and Obama has no experience. Birds of a feather flock together.
On a personal note; what the hell is Obama's thing with *CZARS*? A Czar was an emperor of Russia and is now defined as any person exercising great authority or power in a particular field. Does Obama's obsession with appointing Czars have anything to do with the presumption that Obama is a Socialist or Communist?
Is this Obama's way of preparing the American people for a transition to a SOVIET type of government?