Anarchy in Ferguson Missouri or; How I saw what went down at the Ferguson Zoo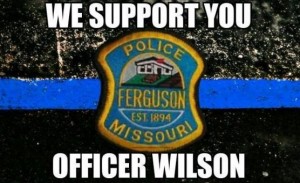 I was writing this post all afternoon and evening as the developments in Ferguson, MO came to be, this is how I saw it from where I sit.
So far there's no real chatter locally. I have to wonder what the reaction will be nationally. Ferguson may explode but will other towns do likewise?? I know if it were to happen here in Texas, especially in smaller cities like the one I live in, it would be a bloodbath because the citizenry would be doing the job of protecting their homes and businesses.
I am actually armed, as in on my belt, not on the side table, on my belt with extra mags on my belt and as extra pistol and a shotgun handy. There probably won't be anything happen here in a town like Rowlett, if it is it'll be in the downtown area.
So, as I was waiting for the Grand Jury announcement I realized I was hungry and this was the following thought.
How do you prepare for a riot? Here's what I came up with:
Call Papa John's pizza… Place order… Redeem Cowboys20 half price pizza program… Redeem points for a free pizza for lunch tomorrow… Eat pizza… Lock and load, put it on your belt and drink a Coke Zero or some other beverage… Ahhh… Now I am prepared to repel attackers if necessary…
Then the announcement came out — NO TRUE BILL. Let's see what happens now.
Apparently the folks that claimed to have seen a Police Officer *murder* a really nice young man didn't actually SEE that. What was said, more or less, was this: "We ditunt sees nuffin but my homie tol' me whut wuz up yo and my homie gots dat from his homie shit main, we doan bees lyin' yo.."
Then the feces hit the wind machine.
Personally, I don't give a damn what happens to these animal that riot and burn, I care about the Police Officers charged with keeping the peace.
I'm not much on church but I believe in God and I pray for protection for the Officers on the line in Ferguson right now. Protect ALL Officers but give Ferguson a little extra tonight please.
Then the media announces that Barack Hussein Obama is going to address the nation.
WTF can Obama have to say that would possibly matter??
Well, that didn't take long. The more Obama talked the worse things got in Ferguson.
Wonderful job Obama, you really did a lot of good with that nonsensical little screed.
Let me say something that many will not say; we are seeing ANIMALS as they react to NOT getting their way… ANIMALS, wild animals…  
They are out of control, they riot, rob and steal, they attempt to hurt Police officers and citizens because their ANIMAL blood makes them feel that way.
They wanted justice; the Grand Jury gave them justice in a unanimous decision to NOT indict, and that sets them off in an AMINAL frenzy.

The only *funny moment* of the night came when Patricia Bynes, a committeewoman from Ferguson, and quite possibly the most despicable person I have ever seen was being interviewed by Sean Hannity and she showed her incredible stupidity as she attempted to screw up the courage to indulge in a bit of faux indignity.
Righteous Indignation was what she wanted to present but she gave a performance that was Oscar worthy as she portrayed the most hilarious RACE BAITER I have ever seen.
If she, Bynes, is a true representative of Ferguson, if she is representative of those that elected her to office, it's really quite easy to understand why the ANIMALS erupted when they heard the Grand Jury finding announced, No True Bill.
Will Ferguson heal? I don't know and frankly, I don't care. Will this type of violence spread to other towns? I believe it will, the anger in the Black community is too strong to be soothed by such a thing as a mixed race and gender unanimous Grand Jury finding.
All these people wanted was to see a Police Officer hung by the neck for doing his job, and barring that, these ANIMALS want to riot and burn because they didn't get their way..
I am NOT a violent person by nature, I don't go looking for a fight, but if a fight comes to me I am going to engage and end that fight as soon as I possibly can. If it's a race war they want then by God let us give them a race war that will make South Africans shake their heads and say *Holy shit, we weren't that violent…"
One thing is a fact; Michael Brown won't be robbing or beating up on people and he won't be a danger to humanity ever again. So, all in all, a bit of GOOD did come from all of this.
There once was a young thug named Brown,
Who bum rushed a cop with a frown.
Six bullets later,
He met his creator,
and his Homies burnt down the town! ~Johnson Long~