The day the Saudi King died I asked my Facebook friends who they thought Obama would send to represent the USA.
Obama to cut short India trip to pay call on Saudi Arabia
WASHINGTON (AP) — President Barack Obama will cut short his three-day trip to India and visit Saudi Arabia to pay respects after the death of King Abdullah, U.S. and Indian officials said Saturday.

The schedule change, announced shortly before Obama left for India, means the president will skip plans to see the Taj Mahal, and instead pay a call on an influential U.S. ally in the volatile Mideast.

The king, who died Friday, was aggressive in trying to check the spreading power of Saudi Arabia's chief rival, Iran. Obama visited the ailing monarch in his desert compound last March.

White House spokesman Josh Earnest said the president and first lady Michelle Obama would travel to Riyadh on Tuesday and meet with new Saudi King Salman bin Abdul-Aziz Al Saud. Vice President Joe Biden was to lead a U.S. delegation, but Earnest said the White House changed plans after determining that Biden's trip coincided with Obama's departure from India. Biden will remain in Washington. SOURCE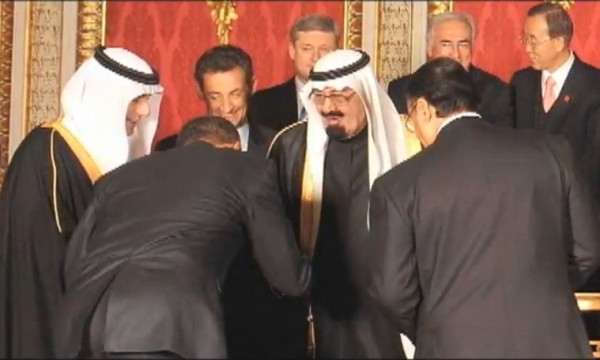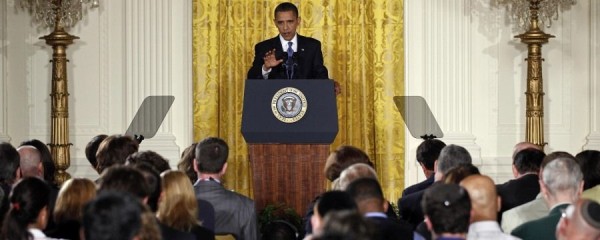 Ladies and Gentlemen; after France was attacked for 3 days, once the French authorities had the situation under control, European and world leaders gathered in a show of what can only be called strength and solidarity. 
Obama, the President and person that should be the foreign representative of the United States, was conspicuously absent from that gathering, as was ANY OTHER PERSON of authority in the Federal Government. 
The King of Saudi Arabia dies and Barack Hussein Obama will move heaven and earth to get to Saudi Arabia to show his respect, hook up with the new King and offer his most sincere condolences and swear his undying love for Islam.
Barack Hussein Obama is an America hating MUSLIM BASTARD, his every action and his hollow words tell more about his inner beliefs and allegiance to Islam than ANY story can tell.
So the pictures at the top of the post; Obama bows deeply to the Saudi King and speaks to Americans with NO U.S. Flag; he used a Muslim rug hanging on the wall for his backdrop, I see great similarities in BOTH pictures above and their background.
As said before; actions speak louder than words and Obama's actions are screaming a message to ALL of America. We, the People and our European allies mean nothing to Obama but Islam and his fellow Muslims mean everything to him.