Purported IS video shows Jordan pilot burned to death
AMMAN, Jordan (AP) — A video released online Tuesday purportedly showed a Jordanian pilot captured by the Islamic State extremist group in Syria being burned to death by his captors following a weeklong drama over a possible prisoner exchange.

Jordan threatened a harsh response to the killing of Lt. Muath Al-Kaseasbeh, 26, who fell into the hands of the militants in December when his F-16 crashed near Raqqa, Syria, the de facto capital of the group's self-styled caliphate. He was the only pilot from the U.S.-led coalition to have been captured to date. SOURCE
So, all of you Liberals out there, you know who I mean, the ones of you that love Islam and hate the United States, those that embrace the enemies of our nation, remind me once again; why do you believe Islam is the religion of peace?
I have a copy of the full video but I will NOT show it on my blog, it is horrendous, but this is a screen capture of the atrocity.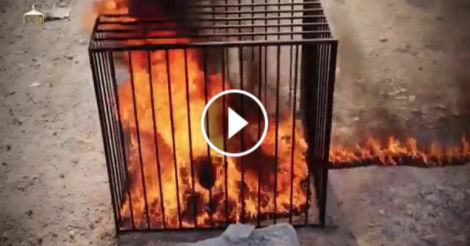 Is anyone surprised that Jordan is reacting like a nation should react to such brutality?
Jordan is responding swiftly to ISIS's claim that it has killed Moaz al-Kasasbe, a Jordanian pilot the group had been holding hostage.

Sky News Arabia and AFP are reporting that the kingdom plans to execute prisoners including Sajida Rishawi, a would-be suicide bomber arrested in 2005 in connection with Al Qaeda in Iraq's attack on hotels in Amman that year which killed 60 people. SOURCE
Can you already hear the cries? Can you imagine how the Jordanians will be accused of *unspeakable brutality* or some such nonsense? If Jordan does execute the prisoners they hold, and I sincerely hope they do, it will NOT be an act of terrorism, it will NOT be an act of murder, it will be *pay back* for the actions against Lt. Muath Al-Kaseasbeh.
I fully believe in Matthew 5:38; "Ye have heard that it hath been said, "an eye for an eye, and a tooth for a tooth".
I know there are those that believe otherwise, and here's where it gets confusing for me; the following verse reads – 39 "But I say to you, do not resist an evil person; but whoever slaps you on your right cheek, turn the other to him also.…"
Its conflicting messages such as this that causes many to wonder about the contradiction in biblical verse. How do you, on one hand, preach *an eye for an eye* and follow it with *turn the other cheek*? 
I'm not a biblical scholar, not even close, but I have lived in the real world for 61 years now and it has been my experience that if you turn the other cheek all you get is 2 sore cheeks. 
WASHINGTON (AP) — President Barack Obama on Tuesday expressed determination to see the Islamic State militant group and its "hateful ideology banished to the recesses of history" after the death of a Jordanian pilot who had been held captive by the militant group.

Obama said the death would "redouble the vigilance and determination on the part of our global coalition to make sure they are degraded and ultimately defeated." SOURCE
A hateful ideology? That was the best Barack Hussein Obama can come up with?
How about murderous, primitive barbarians that are vile TERRORISTS and deserve to be wiped from the face of the earth?
And now it's a *global coalition*?
Obama calls these animals everything except what they really are but they are terrorists, nothing more, nothing less, but talk is all Obama has. Do you remember when the Obama bunch coined the phrase *man-caused disasters* to define TERROR attacks?
How about this; Overseas Contingency Operations as opposed to The War on Terror?
Barack Hussein Obama is a gutless coward that doesn't know the definition of courage or leadership. Obama is an appeaser; one who feeds a crocodile, hoping it will eat him last, but eat him it will once his usefulness has been used up.
To our global allies; I am sorry that Obama is the best we've been able to offer, but sadly, he is and if early actions by the new Congress and Senate are any indication, you may well be out there on your own for now and may be even after the elections of 2016.
I wish I was more optimistic, I wish I was certain that we, the USA, would go on an all-out offensive against Muslim terrorists but we have been saddled with a NO BALLS bunch legislators that are afraid of their own shadows.
Now we are told there is outrage in the Mideast over IS killing of Jordan pilot. Actions speak louder than words! Islam itself needs to rise against these murderous barbarians and deal swift justice if they ever want to be taken seriously as a peaceful religion.