The Global War on Terror – An Unwinnable Battle
I am certain that most of the free world knows that ISIS burned to death a captive Jordanian pilot, filmed the burning and now has it posted on social media all over the world.
I am also fairly certain that most of the free world is aware that in retaliation Jordan has hung 2 terrorists and vows an 'earth-shaking' response to the grisly ISIS video.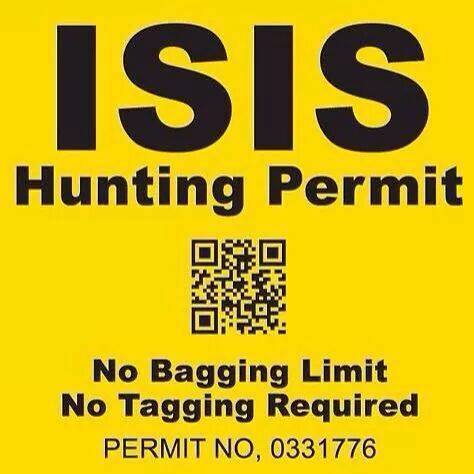 I personally applaud the hangings by Jordan; at least they have a leader that isn't afraid to act for his nation and his citizens.
Jordan's King Abdullah II, who was in Washington when the video depicting the horrific death of Lt. Muath al-Kaseasbeh hit the Internet immediately broke off his visit to the United States and returned to Jordan to be the LEADER that he is supposed to be.
I am of the opinion that had such a thing happened to one of OUR military people the world would have waited for Obama to make the *Club House turn* before ANY type of statement would have come forth, much less any immediate action.
I have always respected the Jordanians, you see, 34 years ago I was living in El Paso, Texas and my next door neighbor was a Major in the Jordanian Army. He was one of the former King's body guards and an Officer, and as such; he was training at Ft. Bliss and at the McGregor Range on the use of the Patriot Missile program.
We were neighbors for a year or so and we became quite well acquainted. He and his wife were Christians and bore the most hateful verbal assaults imaginable from a small Kuwaiti contingent that was in training as well.
Of course the Kuwaiti troops were Muslims and their hatred of all things not Islamic was very obvious to everyone that had any contact with them.
Long story short; my friend told me, and remember, this was over 30 years ago, "We can't win a war against Muslims and Islam, they don't think like we do, they don't believe like we do and they view death as the ultimate experience of duty to martyrdom as long as they can kill Christians and Jews in the process." 
Was my friend prophetic or was he merely speaking from personal experience? 
I believe he spoke from personal, 1st hand experience from having to deal with Muslims as a part of his daily life. My friend was in a position to *know* things, some could be shared, some couldn't, and we spent many hours talking, sharing and drinking good Kentucky bourbon as we hashed out the problems plaguing the free world. 
My friend knew then what we should know now, Islamic terrorists can't be beaten; they can only be destroyed, and as long as there is so much as even one of them left alive they will regroup, regenerate their numbers, resupply and return to their sworn duty, that being; DEATH TO THE INFIDEL.
Apparently our government doesn't know that little fact, or, perhaps they conveniently overlook it or forget it.
To defeat the threat of Islamic terror it would be necessary to commit a genocide that would be so horrendous, so bloody and so horrific that civilized man simply wouldn't have the ability to do so.
That is why I entitled this post Global War on Terror – An Unwinnable Battle.
Our current way of life dictates political correctness at all costs; victory can NOT be accomplished on a global scale, not without us becoming that which we seek to destroy, thus dumping the political correctness that is killing us.
Our nation is led by a Muslim, at least a Muslim sympathizer, and he controls the military.
Sure, we have a military that would march into hell and do battle with Satan if they were given the order to do so, but the *stealth Muslim* in the White House, coupled with the most gutless and politically correct Congress and Senate this nation has ever suffered, has saddled our troops with *rules of engagement* and they insist that the military be run in a totally politically correct manner.
This in an unwinnable battle my friends, even if Obama were removed from office today, I am certain that there is NO ONE waiting in the wings that would have the courage, the strength and love of freedom to stand tall, give the order and pull the trigger.