MORE ISIS BARBARISM: Militants reportedly burn alive 45 in Iraqi town
Islamic State militants reportedly have burned to death 45 people in the western Iraqi town of al-Baghdadi on Tuesday, just five miles away from an air base staffed by hundreds of U.S. Marines.

The identities of the victims are not clear, the local police chief told the BBC, but some are believed to be among the security forces that have been clashing with ISIS for control of the town. ISIS fighters reportedly captured most of the town last week.

Col. Qasim Obeidi, pleading for help from the Iraqi government and international community, said a compound that houses families of security personnel and officials is now under siege.

The reports come days after ISIS released a video purportedly showing the beheadings of 21 Egyptian Coptic Christians along a beach in Libya, sparking an international outcry, including commendation from Pope Francis, who called the killings "barbaric." SOURCE
Well, I was going to do my best to stick to holding Congress accountable for the actions of Barack Hussein Obama and his evil regime but I have to tell you, I am fully convinced that some people within the Obama regime are too stupid to breathe. If breathing wasn't a reflex action, if it required ANY degree of cognizant thought, some people would be dead.
This woman is a prime example of that thought and at this time, other than impeaching the entire Obama regime and removing them ALL from office, I honestly don't know what Congress can do about it.

To paraphrase an old SNL skit; Marie you ignorant slut! 
The female speaking to Chris Matthews is Marie Harf. 
Marie Elizabeth Harf (born June 15, 1981) is the deputy spokesperson for the US Department of State and a former spokesperson for the Central Intelligence Agency. She worked on the 2012 Obama campaign. SOURCE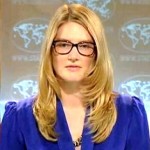 I have heard a lot of incredible stupidity come from the mouths of Dems and Libbers but this woman, Marie Harf, takes the cake.
She was a spokesperson for the CIA?
The CIA is easy to represent as a spokesperson; "Uh mic check, is this thing on? Yeah, OK, Thank you for having me, I'm Case Officer, uh, I'm Agricultural Inspector Daryl Doofus, I'm the PIO for the Central uh, the U.S. Department of Agriculture and I've been asked to say a few words about some sort of something that happened over in some nation and we have no knowledge of it or any other action… Thank you for having me and I will NOT be taking any questions…"
I don't intentionally make fun of the CIA but by the very nature of their business they have to be pretty secretive and having a *dumber than dirt* bimbo as a spokesperson is a really good idea as long as she can stick to the script.
Having a *dumber than dirt* bimbo as a spokesperson for US Department of State isn't such a good idea in my opinion, but maybe, and this is strictly a personal opinion, but maybe Hillary Clinton saw something she liked and hired her for *whatever* reason.
Just sayin… Back to the story:
Al-Baghdadi, which is about 50 miles northwest of Ramadi in Anbar province, is located about five miles from Ain al-Asad air base, where 400 U.S. military personnel are training Iraqi soldiers and Sunni tribesmen to take on ISIS. The base was raided last week by a small band of fighters, in what some experts believe may have been a probe in preparation for a full-scale attack.
What happens when one of our less than well defended military locations in Iraq is overrun by ISIS and it's AMERICAN TROOPS being shown off before being burned alive?
Will the State Department bring out a blond bimbo again, screeching about how ISIS is not all that bad, or about how they just need understanding and jobs?
It's a lot like  Texas born comedian Ron White says in his stand-up routine, In Texas, "…if you kill somebody, we will kill you back." Maybe that needs to apply the world over.
If you can, please drop a few bucks in the DONATION fund, it helps keep the blog and my old self up and rolling and putting TRUTH on the 'net.