GOP Establishment Group Backs Bill That Funds Obama's Amnesty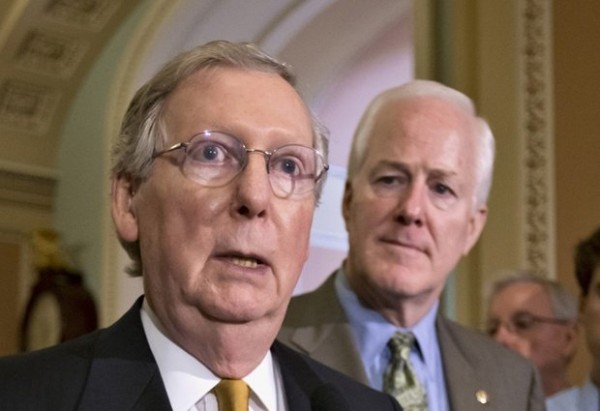 The GOP's business wing is openly siding with President Barack Obama's alliance of progressive and media to pressure conservative GOP legislators into accepting Obama's executive amnesty.

The new establishment alliance emerged Monday, when a recent top aide to Republican National Committee chairman Reince Priebus announced a new $400,000 ad campaign that will be aimed at the GOP's populist anti-amnesty wing, including conservative leaders Ohio Rep. Jim Jordan, Oklahoma Rep. Jim Bridenstine, Kansas Rep. Tim Huelskamp.

The group's role "really exposes what the failure to fight is all about: amnesty at any cost," said Dan Holler, a spokesman for Heritage Action.

"Could u imagine the ads they could run against Dems putting handouts 4 illegals ahead of border agents? Instead they are attacking us," tweeted Dan Horowitz, a conservative advocate. SOURCE
I have said, for quite some time now, the leadership of the United States Senate and the House of Representatives is the biggest enemy the United States faces.
I am not a deeply religious person but that doesn't mean I don't know what is said in the Bible. So, according to the Holy Bible, Genesis 18:26, The Lord said to Abraham, "If I find fifty righteous people in the city of Sodom, I will spare the whole place for their sake."
If the Lord came back today and took ONE LOOK at Washington, D.C. and both Houses of Congress, he would start throwing lightning bolts in great numbers because I am of the opinion that there is not a righteous man in the whole crowd of them.
Mitch McConnell and John Cornyn are nothing more than RINOs, Republicans In Name Only, and most of the Senate falls under the RINO brand, not ALL members, but most do.
The very same can be said for House Speaker John Boehner; he, and his posse of clowns are nothing more than RINOs that don't have the backbone to stand up for America, to stand up for the will of the people and the courage to stand against Barack Hussein Obama and his *crime spree* and acts that border on TREASON, if not in fact actual acts OF treason.