Hillary Clinton, Guns and Gun Control
Hillary Clinton is an anti-gun, anti-Second Amendment piece of garbage and she would, if given her way, take away every gun from every person in the United States of America, thus rendering us defenseless.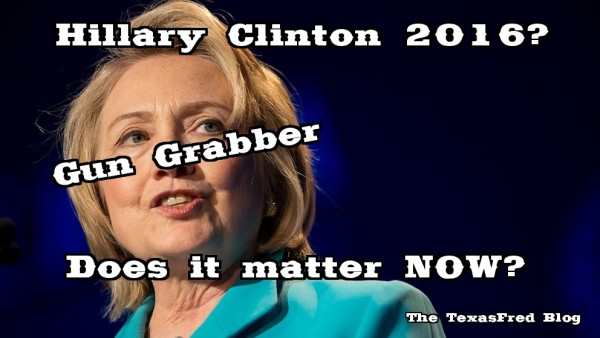 Every gun organization in America is going to try and scare the HELL out of you and millions of other lawful, Constitution believing gun owners by telling you that Hillary Clinton WILL take your guns hoping that you will donate millions of dollars into THEIR coffers because they are going to, you know, protect YOU from the gun grabbers and stop them from knocking your door down.
Many politicians will tell you the same thing, in fact, it's already started.
Sen. Cruz to Clinton: You Want Our Guns, Come Take Them
NRA rallies posse, warns of Clinton 'gun bans, ammo bans, anti-gun judges'
NRA leaders warn members of looming gun-control efforts
And then there is this from Hillary herself.
Hillary Clinton Says Opponents of Gun Control Laws 'Terrorize' Americans
Yes indeed, Hillary Clinton is an EVIL, gun hating OLD witch and she wants all the guns gone, and if elected President, she might make a bid to have that happen but there's a problem with her line of thinking; taking guns from the hands of American gun owners is NOT going to happen.
"Oh but Fred, she'll order the Police all over America to go door to door taking our guns" you say.
Really?
I want to ask ALL of you, just HOW in the hell can you even remotely believe that our Police Officers are coming to take all the guns?? It is NOT going to happen, not successfully anyway.
NO ONE CAN TAKE YOUR GUNS UNLESS YOU LET THEM!
And don't even begin to think the U.S. military would try to take on that daunting task, this is NOT Nazi Germany and at least half of the American military, if not more, would side with the American people. They too are outnumbered, but forget the numbers and know this; our troops, AMERICAN troops, will NOT turn on the American people.
This I believe, and will continue to believe for as long as I live.
Don't fall for the gun-grabber thing but be very afraid of this; ammunition bans and stop manufacture bans on weapons.
Well, here is a simple, common sense solution to all of those that use fear mongering to keep certain Americans stirred up; between now and election time obtain the guns you want and the ammunition you need before any type of manufacturing ban can be brought to bear.
If I might suggest; buy your ammo from these fine folks.
Ammunition Depot | Bulk Ammo Sales | Wholesale Ammunition Online
Yes, I do make 4% on each sale, not getting rich mind you but it helps me to lay in a few extra rounds of ammo too.
Keep your heads on straight and keep your powder dry, it's NOT the guns that these people want as much as it is the ammunition.