Senate Confirms Loretta Lynch as Attorney General
WASHINGTON — After one of the nation's most protracted cabinet-level confirmation delays, the Senate Thursday approved Loretta E. Lynch to be attorney general. She is the first African-American woman to hold the position.

Ms. Lynch, the United States attorney for the Eastern District of New York, was confirmed 56 to 43, with 10 Republicans voting for her. SOURCE
These are the 10 turn-coat RINOs that voted FOR Loretta Lynch.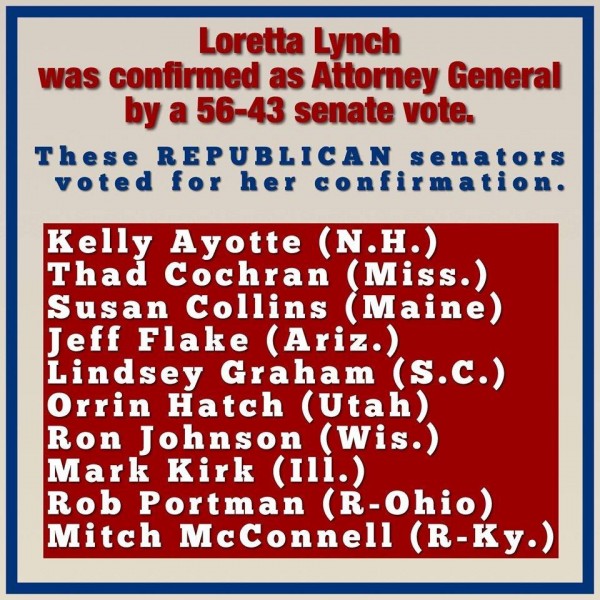 What we saw with the last election cycle was thought to be a GREAT thing for the United States; the GOP had control of BOTH Houses of Congress handed to them and had a decent majority to boot.
Many hoped that the GOP would take that majority and use it to rein in the sheer stupidity that was flowing from Washington, D.C. and Barack Obama.
Many saw an opportunity to turn this nation around, restore the good name of America, rebuild our military, restore our credit rating as a nation and to put this nation back on a course to become the greatest Super Power the world had ever seen.
Alas, it is not meant to be; we didn't factor in the RINO vote.
In the end several Republicans — to the surprise of many of their own colleagues — voted aye for Ms. Lynch, including Mr. McConnell.
I'm sure most have heard the expression *pulling defeat from the jaws of victory*, well, it's supposed to read the other way, but it appears to me that the GOP, at least this current batch, is exactly what I have called them for a long time; the weakest, most spineless bunch of miscreants that the voters could find. 
I know that Ted Cruz missed the vote, that is a well-known fact. 
I don't know if Cruz missed it because he had more pressing matters and assumed the GOP was going to carry the day or if perhaps he already knew that there weren't enough voted to stop Lynch from being seated.
Regardless, Cruz has hurt himself with many Conservative voters over this and I don't know if that hurt will last, if it will translate into a BIG negative for Cruz or what exactly. Only time will tell on that point.
"She is a historic nominee, but also Senate Republicans are making history," said Senator Patrick J. Leahy, Democrat of Vermont. "And I would say for the wrong reasons." He added: "I can only hope that Senate Republicans will show her more respect as the attorney general of the United States than they did as a nominee. She has earned this respect. Her story is one of perseverance, of grace and grit."
A historic moment in U.S. history, hmmmm, where have we heard that before?
Oh yeah, when Barack Hussein Obama was elected POTUS, both times. All we heard from the Dems and many pencil-necked RINOs was what a wonderful thing it was to participate in the election of the 1st BLACK man, a Democrat, to the White House.
I DO hope America realizes where that got us but somehow I just don't believe the light went off for at least 10 Republican Senators.
Seriously, I don't blame the Dems OR Obama, the GOP ran the weakest, the most unelectable candidates imaginable, Obama won and the Dems proceeded to do what it is they do, take America into the abyss of being a 3rd world nation.
I DO blame the GOP, I will always blame the GOP and the weak leadership it has in place. I am very serious in this statement; either the GOP finds its courage and GROWS A SET or this will be what we can and should expect from the entire GOP in the very near future.