John Wiley Price gets court-appointed public defender to deal with feds' 'digital discovery'
A federal magistrate judge has appointed a federal public defender in the John Wiley Price case "due to the extraordinary amount of digital discovery the Government anticipates providing to Defendant. SOURCE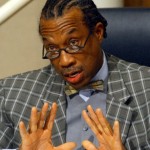 Dallas County Commissioners Court members are well paid, over $100,000 a year of well paid. I don't know how much money Price has, I don't know what his *other* business opportunities are, I have no information on that other than a few rumors that say he is *LOADED* from all the money he collects outside of and in conjunction with County business, but those are, as I said, rumors.
Still, I can't help but wonder, how does a member of Dallas County Commissioners Court deserve a court-appointed public defender and all I can come up with is *damn Sistah, can ya help a Brother out here?*
That's according to an order U.S. Magistrate Judge Renee Harris Toliver signed Tuesday in the case involving the Dallas County commissioner, who's accused of pocketing close to $1,000,000 in bribes from businesses doing business with Dallas County.
That's the best I can come up with, just more Democratic corruption from the Obamites.