Van mayor spends morning playing golf, angers citizens, city officials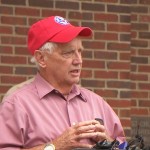 VAN, TX (KLTV) – City officials and citizens of Van said they are frustrated with the response from Mayor Dean Stone. They said that, as parts of the city lay in ruin Wednesday morning, the mayor was nowhere to be found.
At Wednesday morning's 9:00 a.m. press conference, Van Mayor Dean Stone was noticeably absent.
So, KLTV 7 began looking into where he had been.
"A friend of mine called me and told me that the mayor had been out on the golf course this morning," Pete Lucas, a resident of Van, said. SOURCE
I don't care what kind of stress you're under or how much sleep you've lost, YOU are the Mayor of Van, TX and you have dead citizens, and a town that is a wreck, a full-fledged disaster, you don't go golfing and make excuses, you catch a few winks when and where you can and you stand with your citizens and community for as long as it takes.
That is what a LEADER would do.
I am not trying to cast aspersions against Mayor Stone, I have never had the opportunity to meet the gentleman, but antics such as this is something you would expect from Barack Hussein Obama, not a Mayor in Texas.