Obama Admin Knew About Benghazi Before It Happened
Washington, DC – Judicial Watch announced today that it obtained more than 100 pages of previously classified "Secret" documents from the Department of Defense (DOD) and the Department of State revealing that DOD almost immediately reported that the attack on the U.S. Consulate in Benghazi was committed by the al Qaeda and Muslim Brotherhood-linked "Brigades of the Captive Omar Abdul Rahman" (BCOAR), and had been planned at least 10 days in advance. Rahman is known as the Blind Sheikh, and is serving life in prison for his involvement in the 1993 World Trade Center bombing and other terrorist acts. The new documents also provide the first official confirmation that shows the U.S. government was aware of arms shipments from Benghazi to Syria. The documents also include an August 2012 analysis warning of the rise of ISIS and the predicted failure of the Obama policy of regime change in Syria. SOURCE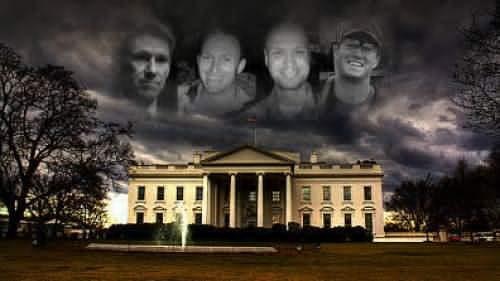 Barack Hussein Obama knew, then-Secretary of State Hillary Clinton knew, then-Defense Secretary Leon Panetta knew, the Joint Chiefs of Staff and the Obama White House National Security Council knew and yet all they did was sit and watch when Benghazi was attacked and Amb. Christopher Stevens; information management officer Sean Smith; and two security officers who were former Navy SEALs, Tyrone Woods and Glen Doherty were murdered.
All of the above named former Obama officials, as well as Barack Hussein Obama himself need to be prosecuted to the fullest extent of the law for their complicity in those deaths.
One last thing; Hillary Clinton can NEVER be allowed to become President!