Texas suffers massive flooding, widespread destruction
HOUSTON (AP) — Floodwaters deepened across much of Texas on Tuesday as storms dumped almost another foot of rain on the Houston area, stranding hundreds of motorists and inundating the famously congested highways that serve the nation's fourth-largest city. SOURCE
This is the Margaret Hunt Hill Bridge over the Trinity River in Dallas Texas, affectionately known locally as *Large Marge*.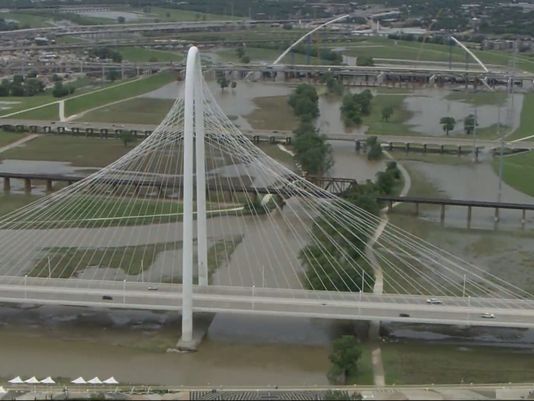 This is very minor compared to the flooding and the damage that is being suffered by folks in South Central Texas and in the Houston area. Death toll climbs, thousands abandon vehicles as floodwaters paralyze Houston.
Anyone that knows me already knows this; I detest Barack Hussein Obama but he didn't cause this flooding event. George Bush and Greg Abbott did not bring this event to Texas either, but you would never know it if you read the comments in the following story from the Dallas Morning News. Obama confers with Gov. Abbott about Texas floods, promises quick federal aid.
My comment to the (m)asses regarding their foolish and incredibly childish commentary. 
Texans are DEAD… Homes are destroyed, businesses are ruined and life, for many, will never be the same, but all you get here is childish political jabbering… You should all be ashamed of yourselves… We are Americans 1st, not Dems, GOP or whatever else… Act like it! Act like Texans and show some CLASS for once in your life!
Flooding, Disaster and Political Blame? Seriously? 
This is a DISASTER, people are hurting and I personally don't care where help comes from; Washington, FEMA, Austin, I don't care. Texans are in need and THAT is all that matters.
I don't think I won too many friends with that commentary and frankly, I don't give a damn about that either. It's time we ALL take a stand for what's RIGHT, not just for Texas but for ALL of America.