US orders more troops to Iraq, but no overhaul of strategy
WASHINGTON (AP) — President Barack Obama ordered the deployment of up to 450 more American troops to Iraq on Wednesday in an effort to reverse major battlefield losses to the Islamic State, an escalation but not a significant shift in the struggling U.S. strategy to defeat the extremist group. SOURCE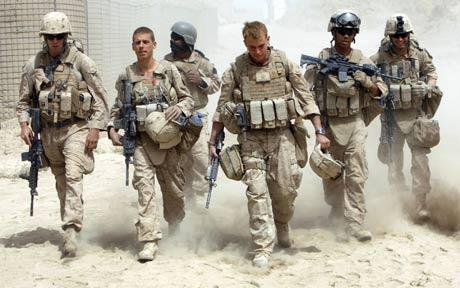 We have ALL seen it before, well, maybe not ALL of us, apparently the Obama regime has missed it, along with so many other truths.
Insanity: doing the same thing over and over again and expecting different results. – ~Albert Einstein~.
We have already trained and advised the Iraqis. We spent millions, if not billions of dollars on training and equipment and so far the Iraqis have not performed in a *winning* way, but now we're going to send in more troops, call them *advisors* and spend an untold amount of American money for nothing, again. Deja' Vu?
Fool me once, shame on you; fool me twice, shame on me.
As I have said on MANY occasions; we can fight to the death to protect and defend this United States, our beliefs and our way of life but what happens in a Muslim nation such as Iraq is NONE of our concern. 
Iraq; Not OUR Circus, Not OUR Monkeys.
The United States of America is OUR Circus and we have far too many Muslims and other assorted monkeys here already. We need to defend our homes and families, we need to adhere to the Constitution as it was written and we need to defend against ALL enemies, foreign and domestic.
Yes, we DO have foreign enemies; China, North Korea and Russia immediately come to mind, but the biggest enemy this nation faces is the enemy within; The Democratic Party, Liberalism, the veiled Communism of those groups and the Muslims already in this nation.
And lest I forget and fail to mention the Muslims and Communists biggest supporter, and the man that I consider to be the most diabolical domestic enemy we have ever faced; Barack Hussein Obama.
I don't claim to be an expert on the differences between the various sects of Islam, but I DO suspect that the ones controlling Baghdad are the ones that Obama supports. Why else would he send American troops into harm's way if it were otherwise?
There now are nearly 3,100 U.S. troops in Iraq involved in training, advising, security and other support. In addition to bombing missions, the U.S. is conducting aerial reconnaissance and intelligence-gathering missions against Islamic State forces, while counting on Iraqi troops to do the fighting on the ground. Counterterrorism efforts in Syria, where the Islamic State has a greater foothold, are much less far along.
Does anyone remember a little *dust up* a few decades ago that was enlarged in this exact same manner? We sent advisors and logistical support and then combat troops in small numbers until it became LARGE numbers, with massive air support and naval support?
Do you remember Vietnam?
Insanity: doing the same thing over and over again and expecting different results. ~Albert Einstein~.
Please, share it with your friends and contacts and if the mood strikes you, drop a couple of bucks in the PayPal account.