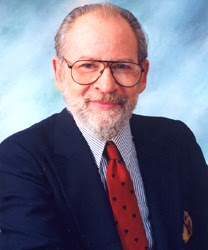 Mr. Alan Caruba Oct. 9, 1937 — June 15, 2015
Today the world lost a great writer and Patriot, a Veteran of the United States Army, and a true gentleman with a wit that was unmatched. Alan Caruba was the author of Warning Signs, his blog, and with that blog he taught many aspiring bloggers how to do it right! I was one of those individuals.
Alan Caruba was my friend and mentor, he was my sounding board, he was the reason I kept on blogging when I felt that there was nothing left to say and that folks like us were only *preaching to the choir*, but most of all, Alan Caruba was my FRIEND and I loved that gentleman as if he were my father.
Today I am truly heartbroken.
Alan Caruba was an American public relations counselor and freelance writer who is a frequent critic of environmentalism, Islam, homosexuality and research on global warming.

Career — In the late 1970s Caruba founded the PR firm The Caruba Organization, and in 1990, the National Anxiety Center, which identifies itself as "a clearinghouse for information about 'scare campaigns' designed to influence public policy and opinion" on such subjects as global warming, ozone depletion and DDT. From 1984 until 2004, he ran The Boring Institute, a "spoof" satirizing the media by releasing annual lists of the year's "boring" celebrities. From 1994 until 2004, he was director of communications for the American Policy Center. He is an adjunct scholar at the Center for the Defense of Free Enterprise, a wise use think tank in Bellevue, Washington.
Alan and I spent a lot of time talking, we took strength from each other and our hard-core opinions, but Alan had a softer side too. Alan worshipped his mother, Rebecca Caruba, and he talked about her in depth to me; how she was a gourmet chef and a connoisseur of fine wines and how that played a part in his entire life, long after his mother was gone.
I have lost several very good friends that I met through blogging, my good friends Bill Ghent and G.M. Roper just to mention a couple, and I learned a great deal from these gentlemen too. They were also good friends with Alan Caruba, maybe that's why we all stuck together like we did.
Save me a seat my friends, I'll be coming that way soon enough and I look forward to the tales we'll tell!
Alav ha-shalom…