'I have to do this,' Charleston church shooter yelled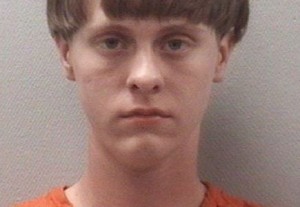 CHARLESTON, S.C. — Authorities arrested a high-school dropout in connection with the slaying of a prominent minister and eight parishioners in the South's oldest African-American church and were working Thursday to determine a motive for the shooting.

The suspect, Dylann Roof, 21, of Eastover, S.C., reportedly declared his hatred for black people before opening fire on a Bible study group at the church late Wednesday, federal law enforcement officials said. SOURCE
I'm about as far right and Conservative as it gets and I AM a gun owner, but I advocate gun owner's responsibility, on this blog and on my gun page on Facebook.
As much as I am in favor of gun ownership I am firmly convinced that there are some people that need to be denied access to ANY guns, even a rubber band gun.
I am also an advocate for responsible friends and family doing whatever it takes to get attention for those that are unbalanced and in need of help in order to try and keep guns out of their hands.
This punk-assed was given, GIVEN the gun by his father. What kind of parent GIVES an obviously *nutty as a fruitcake* kid a gun? That man is as responsible for this travesty as is the kid himself.
I don't know if South Carolina has and uses the death penalty but if they do I hope the last words this sick son of a bitch hears are *I have to do this*.