Everything The White House Told You About Bowe Bergdahl Was Wrong
His release was supposed to be the political masterstroke in the last days of the war. But the war is still going, and Bergdahl is going to court.

In the space of nine months, he went from being heralded at the White House to facing prison for life.

On Wednesday, the U.S. military charged Sergeant Bowe Bergdahl, the former Taliban captive who was freed in exchange for five Guantanamo Bay detainees, with desertion and misbehaving before the enemy. SOURCE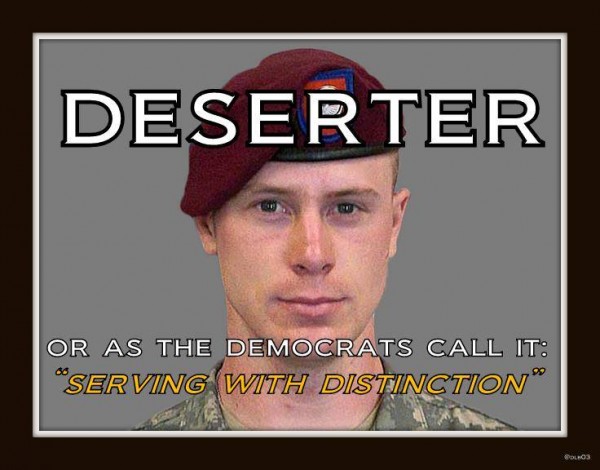 If Barrack Hussein Obama had a brain he would be dangerous. Bowe Bergdahl was traded back to the United States for 5 Taliban commanders, Generals if you will, and it turns out that Bergdahl is nothing more than a traitor to this nation.
That's some jam-up intelligence work by Obama and his crew, trading off 5 Taliban commanders for one weak-minded piece of disgraceful garbage. I'm fairly sure the Libs, Dems, Progs, Commies, Socialists and Marxists that comprise the Dem Party are *wetting* themselves in glee at the political astuteness exhibited by our anti-American pResident.
The story says that if convicted Bergdahl could face life in prison.
I am of the opinion that he should face a firing squad or the gallows but in this PC world of same-sex marriage and abortion on demand that the Democrats have foisted of on us I am relatively certain that won't happen. 
His capture, release and now charge became a parable of how narratives about the war in Afghanistan did not pan out. The soldier whose service Susan Rice, U.S. national security adviser, once characterized as "honorable" and whose release came at the price of five prisoners could now himself end up in an American prison for life. The prison exchange that some political operatives thought would be heralded was instead widely condemned. And the war that was supposed to be ending with no soldier left behind has now been extended for five months.
It's a wonder, given the utter incompetence of the entire Obama regime, that this nation still stands at all. I just hope We, The People have the will, the strength and the courage to last out the remainder of his term.
Even more than that; I hope that We, The People have the intelligence to elect a true Conservative and not some other form of Democratic loon or the most despicable creature known to man … The RINO!