What would you like to see the GOP do to change Washington?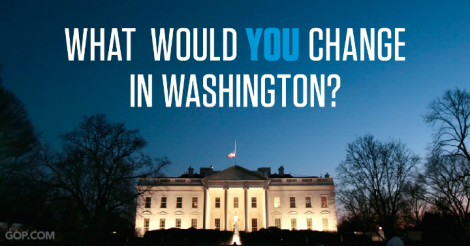 Take the RNC's one-question survey to let us know.

Let Us Know

What Would You Like to See the GOP do to Change Washington?

You are the Republican Party and your input drives our strategy. So let us know — we're listening. SOURCE
This is MY response to their survey. It will be interesting to see if they even bother to respond.
No, you're NOT listening… You have turned into Dem-Lite, and not all that Lite…

I have never been so disappointed with anything as I am the GOP as a whole, there's not 2 dozen decent Senators and Representatives among you..

Return to being *The Party of Reagan* and you might be able to revive the Party, otherwise, the Dems are going to dominate you, and this once great nation all over again…

What would I do? I'd fire every last one of you and start over with REAL Conservatives and NO RINOs…
On this 4th of July in 2015 I am in no mood to take ANY crap off of anyone in Washington, especially that politically correct asshat, Reince Priebus.