You want the TRUTH America? You can't handle the truth
MY readers CAN handle the truth and most anything else that comes their way, so here we go; the TRUTH will set you free!
Recently Donald Trump said:
"When do we beat Mexico at the border? They're laughing at us, at our stupidity. And now they are beating us economically. They are not our friend, believe me… When Mexico sends its people, they're not sending their best. They're not sending you. They're sending people that have lots of problems, and they're bringing those problems with us. They are bringing drugs. They're bringing crime. They're rapists. And some, I assume, are good people."
Donald Trump is 100% accurate and correct in his statement, and that is why Trump will most likely never see the White House as POTUS.
The Donald spoke the TRUTH and what did he get for it?
Trump has been castigated by the press, the DNC, the GOP, candidate in the upcoming race for President, broadcast media, business leaders, La Raza and anyone else that wants to play *The Race Card* as they pander for votes within the Hispanic population of America.
I can tell, from 1st hand experience, there are many good and decent people in this nation that are Hispanic linage but most of these decent people have gone on to obtain their citizenship.
There are also those that are here in America illegally that are the scum of the earth. They are here to rape, rob, steal and yes, MURDER those that stand in their way, or in some cases, murder for hire or just because they have nothing better to do.
These are recent headlines that make me believe that we, as a nation, must do something different in regards to immigration and deportation. 121 Illegal Aliens Avoid Deportation, Now Charged with Murder. From CNN we see this, and I am surprised CNN was even offering it, Suspect in killing of San Francisco woman had been deported five times, and last but not least, Illegal Alien Crime and Violence by the Numbers: We're All Victims.
Dems and RINOs are blasting Trump for speaking the truth. Ted Cruz is being blasted as well, simply because he happens to agree with Trump.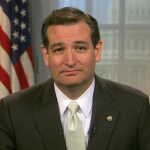 I also agree with Cruz, I have lived in Texas for well over half of my life, at least 9 years was on the border, literally. I was in El Paso long before the situation had turned so deadly, long before the cartels were murdering anyone that stood in their way.
Where we lived was on a prime trail heading north and I assure you; any and everything you had that wasn't nailed down was going to be missing the next morning. I do NOT exaggerate in any way.
Where I live right now there is a very nice 2-story house right across the street from us. A Mexican family recently leased it and so far the City has been out there twice to have them clean up the yard and lately, nearly every morning, there are bags of trash and beer cans scattered in the street where some of their party visitors use the street as their trash receptacle.
So far they aren't stealing, not yet anyway, but they have done serious damage to the appearance of a very nice neighborhood.
In general, wherever they go, they leave trash, crime, drug addiction and in far too many instances, death and destruction.
When does it stop? When do we say ENOUGH? When do We, The People stop these people, and other undesirables from turning the USA into a Third World hell-hole?
Dear and valued friends and readers; I am engaging in a fight to stop any of this that I can, but it takes money to keep the blog online and to keep the news, opinion and commentary flowing. If you can spare a few bucks, please drop some money in the PayPal account. It is greatly appreciated!