Trump immigration proposal divides GOP presidential field
DES MOINES, Iowa (AP) — Donald Trump is dividing his Republican presidential rivals anew with his call to rewrite the Constitution to crack down on millions of immigrants living in the U.S. illegally, and to force Mexico to pay for a better border fence. Scott Walker embraced some of the plan Monday, but other contenders, such as Chris Christie and Carly Fiorina, dismissed elements as unworkable. SOURCE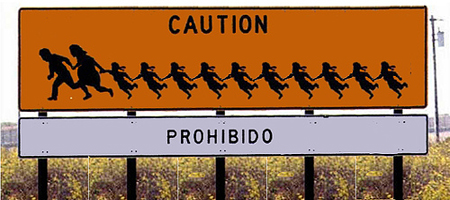 I don't know if Donald Trump's *plan* is actually doable but I have to tell you; if it is, if it can be accomplished, this United States of America would, in all probability, save enough money from expenditures on crime fighting, schools, food and medical care for illegals to pay for the roundup, the deportation and the border security.
The biggest problem *President* Trump would face would be the gutless SOBs in BOTH Houses of Congress, this story fully illustrates the deep division within the GOP, the Dems would be 100% in line against Trump and ANY action to secure the border or the nation.
The only thing I see the Congress and House supporting would be some type of *blanket amnesty*, one that not only covers the illegals already here but one that would further affirm the citizenship of their *anchor babies*.
I have posted this repeatedly but for new readers; I am the grandson of an immigrant, a legal immigrant that found his way to Ranger, Texas in 1919 and eventually settled in Shreveport Louisiana.
My family was raised as an AMERICAN family, with this, the USA, being our home, not just a place to live and prosper as we considered some other nation to be our REAL home.
We are not hyphenated Americans; we are Americans, plain and simple, and our allegiance is to this nation, the Constitution and the American people. Our family came to America through those *proper channels* I mentioned earlier and personally, I have NO USE for ILLEGALS of ANY ilk nor those that would sign a bill to GIVE them American citizenship. That is AMNESTY, no matter what they call it. 
Establishing priorities is one thing, playing fast and loose with the law, and spinning it to suit the desires of the Legislative Branch in their effort to work a *blanket amnesty* into place is an entirely different matter and this is exactly what I believe would happen should Trump become POTUS; the House and Senate would continue in their RINO ways and stall any effort by Trump to deport illegals and their children. 
If these people screaming for their ILLEGAL acts to be made legal would come here legally, contribute to the GOOD of America, speak English and become Americans, not a hyphenated American, just an American, they would be welcomed with open arms..
Yet they continue to come here ILLEGALLY and are nothing more than CRIMINALS for that very act, but they still DEMAND that their ILLEGAL ACTS be forgiven and that they be granted AMNESTY from prosecution and given U.S. citizenship, with ALL benefits, simply because they were able to successfully execute an ILLEGAL action.
Illegal immigration has got to stop, if someone like Donald Trump can't get it done then I don't believe it will ever be stopped and we will continue our death spiral into becoming a 3rd world nation.