Texas Governor Refuses Syrian Refugees
Texas Governor Greg Abbott says Texas will not allow Syrian refugees to be relocated into Texas in the wake of the Paris terrorist attack. He also called upon President Barack Obama to halt the importation of any additional Syrian refugees into the U.S.

"Given the tragic attacks in Paris and the threats we have already seen, Texas cannot participate in any program that will result in Syrian refugees – any one of whom could be connected to terrorism – being resettled in Texas," Governor Abbott said a letter to President Obama. "Effective today, I am directing the Texas Health & Human Services Commission's Refugee Resettlement Program to not participate in the resettlement of any Syrian refugees in the State of Texas. And I urge you, as President, to halt your plans to allow Syrians to be resettled anywhere in the United States."

The Texas governor joins other state's governors in taking action to stop the importation of potential terrorists. At least one of the Paris terrorists was a Syrian refugee who had recently entered Europe. SOURCE
Several states are telling Obama NO, actually, not just NO but HELL NO.
No is a word that Barack Hussein Obama does NOT like to hear, no matter the topic, but when it comes to his friends, the Muslims, Syrians or any other batch of towel wearing sheet-heads, NO sends him over the edge and I'm pretty sure his lower lip is pooched out right about now.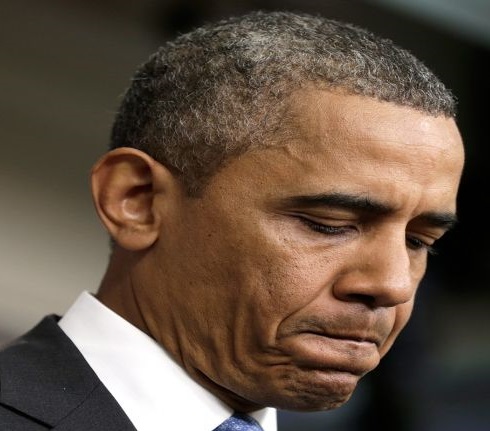 Obama hasn't got a friend to his name on the RIGHT side of the aisle and it appears that a fair number of folks on the LEFT are starting to see him for what he is too. But there will always be that HARD CORE Obama supporter and groups of them.
This is from those Loony Libtards at Think Progress; No, State Governors Can't Refuse To Accept Syrian Refugees. Of course you have to realize, the people at Think Progress are the very people that have never met an American enemy that they didn't like, embrace and support.
And as if the United States doesn't already look like the most incompetent bunch of *hicks* in the history of the world, we have this; Barack Obama LATE for *moment of silence* honoring Paris victims.
That is the most irresponsible and embarrassing action, public action, a world leader could possibly pull. The world already believes Obama to be unable to lead a free nation, he is widely seen as a buffoon, not worthy of consideration.
I have an old friend that still maintains a few contacts in Russia. He was just talking to one of those contacts and he asked him, "What is the feeling in Russia regarding Obama?"
The friend replied, and these are HIS words, "Obama is a coward, he can't do anything right, he is weak, he is an effeminate pervert, he is useless and he is a pu**y…" I think most will understand the meaning and its intent.
ISIS, or, as Obama and Company prefer to call them, ISIL, is not the only enemy this nation faces and stopping the importation of a new batch of Syrian refugees would be a wonderful start at stopping us from having even more enemies on our soil.
I am not trying to incite violence or civil insurrection but when one group of people declares WAR on another group of people, aren't those people being attacked entitled to take up arms and defend themselves, their families, homes and nation?
What do you believe the response from Obama will be when, not IF, but when the Syrians, or their allies set of several bombs and launch armed attacks on American such as what was recently witnessed in Paris?
Will it be called an act of war? Will it be called an act of terrorism? Will the federal government loose the dogs of war on the attackers and their support network or will lack of jobs and climate change be blamed once again?
We didn't start this WAR but we are right in the middle of it and we have the most ineffectual national leadership imaginable, when do the grownups take over and accept responsibility for the future of the nation?
When do we stand as one and take our nation back from those that only seek to destroy her and DAMN the consequences of world opinion and Liberal *butt hurt*?
It is long overdue America and the American Patriot is ready!
Barring America standing and fighting, and sometimes I truly wonder if the people will, I believe Texas needs to secede, the new President of the Republic needs to commission every Conservative, God fearing Christian and loyal rednecks as members of the Texas Guard and then give them the authority to clean Texas out; of ALL Muslims, illegals and of course the flaming libbers.
It would be a happy place for me then. 🙂