What has happened to the United States of America?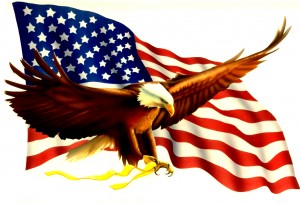 As we prepare to once again celebrate Thanksgiving I have to ask; what has happened to the United States?
The President, many Liberals, Democrats and other assorted bleeding heart do-gooders from all facets of the political spectrum want us, the American people, to open OUR borders and allow all sorts of nefarious bits of humanity to enter this nation and then to let them suckle, unimpeded, at the teat of American generosity.
I am all for 2nd chances at life but not when it costs the American taxpayer millions of dollars and countless American lives to bring the likes of Bowe Bergdahl back to this nation by releasing FIVE known Islamic terrorist leaders back to the battle field where they can once again resume their work of killing OUR soldiers.
I am all for the right to life and equality, that said; we are not taking care of our own widows and orphans, nor the elderly and infirm on Social Security that will receive NO cost of living increase again, and the Veterans that served this nation, giving up life and limb for 'the thanks of a grateful nation'.
Yes, that 'grateful nation' part is pure sarcasm, the current regime hates America and has NO respect for our troops nor our police.
The cries of RACISM, bigotry and xenophobia are strong from the Left and actually, quite a few on the Right when Conservative Americans call for the borders to be sealed. The Obama regime tries to lay a 'guilt trip' on the American people and say's things like, "What's the matter, are you scared of widows and orphans?"
If what we are now seeing, the *taking in* of thousands of Syrian 'refugees' really was all about widows and orphans then it might be a somewhat different matter, but when you see pictures of these refugees you aren't seeing women and children, or very few women and children, you're seeing big, strong, healthy looking men of military age, well dressed, well built and robust. 
Those are the people the Obama regime wants to take into this nation; people from Muslim lands, people that are wearing the latest in popular fashion and footwear, people carrying and using the latest cell phones to take *selfies* as they document their entry into the United States.
According to nearly every site I can find regarding the financial support these refugees will receive, and the only ones I find with ANY information are Liberal sites, these so-called refugees can, and should be a financial boon for the nation and welcome members into our workforce.
So what about Americans that are unemployed, or under-employed? What about Americans that have given up on the idea of finding a job and have to survive off of welfare, EBT cards and so forth? These folks have had the door slammed in their faces, they have been ignored by the Liberals and Obama as they, Libs and Obama, welcome in 'refugees' from all over the world.
We can't keep supporting the world, we can help I'm sure but we can't do it all, and no matter how much sympathy a body has for the Syrians, or any other batch of supposedly downtrodden, deprived and endangered people, there is always that hard strain on OUR financial system and the constant threat of terrorism knocking on OUR door and we live with those thoughts bouncing around in the back part of our mind.
America 1st; that has long been my belief, after WE are taken care of, after ALL Americans are fed, with a roof over their head, after OUR sick and wounded are cared for, after we have fixed all of the ills that we suffer, then perhaps we can extend a hand to help those that still hate our guts.
Until then, let 'em hate us for free.
It makes sense to me.