I Support and Endorse Donald J. Trump for President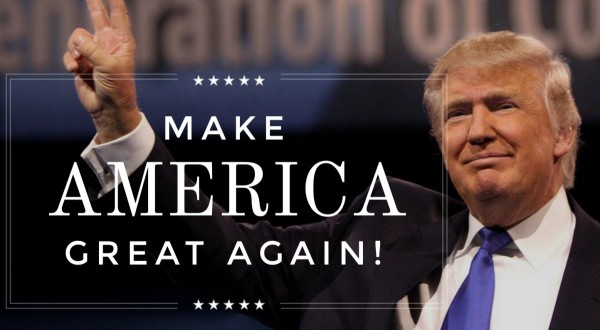 I don't play well with STUPID people, in fact, I abhor STUPID people.
You see, ignorance can be overcome but stupidity is terminal.
Every time elections roll around I tend to thin the herd so to speak, I seem to always have at least a few people that made it onto my friends list that are so STUPID that if breathing weren't a reflex action, if it took ANY cognizant thought process at all, these few people would be dead.
Maybe breathing should require a thought process, it certainly would thin the herd, but so would removing the warning labels from all items. Let nature take its course, so to speak.
You have that unabashed man of courage running for POTUS. You have the most bold and brash, politically incorrect billionaire businessman taking on the GOP and Dems, using his own money and yet so many seem to want to elect an *Anchor Baby* or a guy that is, in all probability, no more qualified to run for POTUS because of his BIRTH place and the citizenship of his father as is Barack Hussein Obama.
I seem to remember, vividly, the howls and cries of so many *thought to be* Conservatives regarding Obama's place of birth, many believing that he was born in Kenya and NOT Hawaii, and was born to an American mother and a Kenyan father.
I remember how so many cried that Obama wasn't qualified but NOW you turn the other cheek and don't say one damned thing about Ted Cruz and the FACT that he was born in Calgary, AB to an American mother and a Cuban father. I simply can't see how that is a natural born citizen.
I remember all the law suits that were threatened but never seemed to get filed when it was Obama. Don't you suppose that IF Ted Cruz were to get the nomination and win the White House that the Dems will be screaming and crying that he isn't an American just like so many from the GOP did?  
Some folks are crying, Cruz supporters mostly, saying that Trump has not disavowed the Ku Klux Klan and refused their endorsement, well, that is a damned lie.  
Donald Trump didn't disavow the Klan endorsement immediately, and I don't know why, but he did disavow the Klan. 
Trump disavows support from former KKK leader after first declining
Many, myself included, see the Klan endorsement as a selection right out of the GOP book of dirty tricks, one pulled deliberately, one that was, in all probability, asked for by the GOP or RNC and one done to directly harm the Trump campaign.
For those that don't know it, the endorsement from David Duke is actually very funny to anyone from the South, Duke is a smarmy buffoon and never did anything other than talk and cause a lot of eyes to open and realize that the Klan, and their many years of fame was over and done.
And while I'm thinking about it; how many remember the FACT that Barack Hussein Obama was endorsed by the Black Panthers, The Communist Party USA, Socialists, CAIR and who knows how many other far left terrorist groups.
I don't seem to remember hearing very many folks complaining about that, I know I did, a lot of my readers did, but there was no hue and cry for Obama to be ostracized for those endorsements.
In all fairness, NO candidate can control who endorses them, all they can do is disavow that endorsement and move on. Klan groups are well known for trying to disrupt an election like that. Klan Leaders and Racists agree; Endorse Ron Paul.
So, cry all you want to when YOUR side gets done to it what the other side had done to them, but remember, politics is a nasty game, the mud gets slung and the lies get told, but hopefully, in the end, once Donald J. Trump has the nomination, I hope all the crybabies, liars and excuse makers can come together and turn out the vote to defeat Hillary Clinton.
If Donald Trump is what many believe him to be, the END of the GOP, I see that as a good thing, and if he can do ALL that he says he can, I see that as being even better, but if he turns out to be *all hat and no cattle*, unlike the Democrats and their blind support of Obama, I will come out hard against him (Trump) and support a replacement and not vote him in another 4 years.
Unlike Congressmen and Senators, we CAN get rid of a no-account POTUS, via elections or term limits, and either way, the USA is better off.