Donald Trump Will Make America Great Again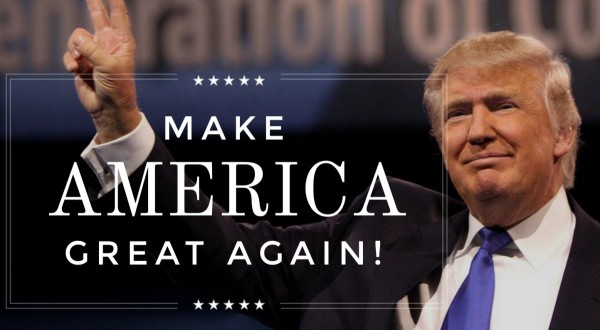 There will be some people that won't like this post simply because I have written about Donald Trump once again. There will be others that take issue with this post by saying, "America is already great…"
Once upon a time I would have been the 1st one to argue that point as I told you, in NO uncertain terms, "America IS great."
This is where I warn my readers; if you're not ready for a dose of TRUTH then right about here is a good place for you to click off and leave.
America is NOT great and hasn't been for at least the last 7 years under the dictatorship of Barack Hussein Obama, the Democrats when they held power or under the weakest bunch of Republican COWARDS to ever take a seat in Washington when We The People bought their spiel about how THEY were going to change things if WE would vote them back into power, and anyone that tells you America is great is either a liar, or maybe a Democrat, but I digress, or, if they claim to be a Conservative, they are totally delusional and have NO idea what they are saying.
So, here we are, political silly season is in overdrive and we're all being hammered with information from all sides. Some of it is true, some of it is very sketchy and some is an outright lie.
I have people asking me all the time, "What if" about this, that and the other and I have to tell them, "I'm a blogger, not a seer or fortune teller", and then they turn around and say, "Well, I heard" this, that or the other and my 1st response is always to ask, "Do you have a SOURCE for this?" and most of the time I either get called a racist or an SOB or some such and they leave the blog, telling anyone that will listen what a mean old man I am, simply because I want PROOF and don't accept their hearsay!
I don't engage in the *what if* thing, I deal in facts and reality, not the *I heard* and I would think folks would have caught on to that by now. My not playing the games might also be the reason I have been threatened with being sued a couple of times and why it never happened and why I never had to take a story down for being non-factual.
I have so many news sources that my computer looks like it belongs in a WAR ROOM even though I don't believe half of the independent sources and damned near NONE of the mainstream.  
To be a decent blogger you have to wade through tons of BS, emails and so forth, and read a multitude of stories from the darkest, nastiest places as you try to *read between the lines* and ferret out the REAL STORY.
I don't post wild guesses. I don't post unsourced stories unless I post a piece that is purely an opinion piece or something I use that has been sent to me via email and I always make a point of clearly identifying it is an *opinion piece* and you never hear me base a story by saying *Well, I heard…*.
So, let me ask this; how long? How many election cycles have we heard the GOP and a few thought to be Conservative voters cry, "If we only had a candidate that would speak his mind, dump political correctness and speak honestly? Why can't we ever have a candidate that isn't part of the cabal and only seeks to promote We the People and do what's best for America?"
Now we have that person, a candidate that is NOT politically correct, one that says exactly what's on his mind and doesn't give a damn who likes it or not, one that doesn't need the money the lobbyists offer, one that isn't OWNED by any of them, and now that we have that man all of those that cried out for an HONEST man want to do is take him to task and support a couple of Cuban descendants, one of which that is nothing more than an *anchor baby*, that would be Marco Rubio, born in 1971 and his parents didn't attain citizenship until 1975, or a Caspar Milquetoast like Ben Carson.
This is the very reason that I have, for a long time, refused to even consider running for office. Far too many people can't handle the truth and straight speech. These people want meek, mild and polite leaders until it's time to fight and do some real LEADER stuff and then they're shocked out of their bloomers when they realize they have placed a weak, limp-wristed Muslim loving wimp in the seat of power.
Americans need to wake the hell up; electing Ted Cruz is electing a man that hasn't been a very good Senator, one that many here in Texas believe to be a slimy, no-good POS, one that barked loudly when he arrived in D.C. but has had no real BITE, and electing Marco Rubio is a vote for all of the same above regarding Cruz as well as giving power to an open borders amnesty supporter.
If Donald Trump says something the news media believes is wrong or bad the media will smear it into the biggest mess possible in an effort to make it look even worse, whether it's true or not.
If Donald Trump says something good the media will try their very best to make it into something bad, knowing full well that SOME people are going to fall for it and believe their every word.
It's up to YOU America, sink or swim, and only one candidate can set this ship back on an even keel and that is Donald J. Trump.
I don't mean this to sound rude, seriously, that's not my intent, it's just that I too speak MY mind and I don't engage in political correctness and it rubs a lot of overly-sensitive lightweights the wrong way.
Make America Great Again! No more RINOs, no more Party hacks, no more Liberals and no more Socialists.
And one last thing; don't you find it a bit strange how the GOP has rallied so quickly against Donald Trump but hasn't mounted a decent attack on Barack Hussein Obama in 7 years?