Islamic State claims Brussels attacks that kill at least 30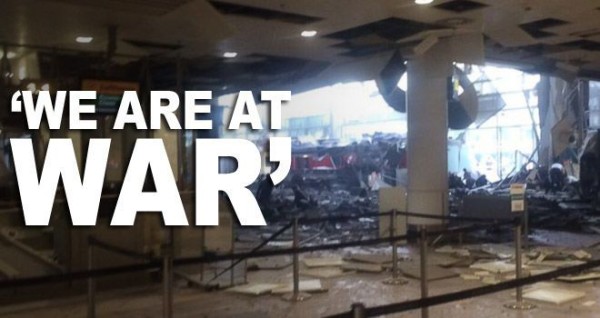 Islamic State claimed responsibility for attacks on Brussels airport and a rush-hour metro train in the Belgian capital on Tuesday which killed at least 30 people, a news agency affiliated to the group said.

The coordinated assault triggered security alerts across Europe and drew global expressions of support, four days after Brussels police had captured the prime surviving suspect in Islamic State's attacks on Paris last November. SOURCE
Have you ever been SO angry that you just had to sit back for a while in order to get your emotions under control?
That was me this morning, after I read about the attack in Belgium and after having seen the live broadcast of Obama and Raul Castro in Cuba as he, Obama, gets his hand raised in some kind of Communist victory salute by Raul Castro, and then Obama goes *limp-wristed* as he telegraphs to the entire world exactly what kind of emasculate FAGGOT he really is. This is NOT a Photoshop either.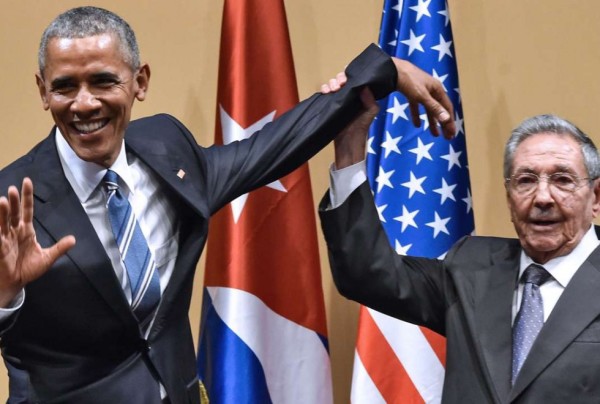 Maybe he's getting his *creds* known for the after party when he leaves the White House for the last time. Bath House Barack rides again, or maybe he gets ridden, as the case may be.
As I was scanning the news just now there was a flash on an online news source proclaiming, "White House to order tighter security at U.S. airports after Brussels attacks", and that is a good thing I'm sure, but from what I have seen of the TSA people, they would be hard-pressed to stop a little kid with a *super soaker*, much less a terrorist with a bomb. 
Think about this; by the time someone gets TO a TSA checkpoint they are far enough into an airport to go ahead and detonate whatever it is they have and inflict some serious damage.
We have been lucky America, lucky that we haven't had another attack such as the Boston bombing or some other mass-casualty event, but it's coming I believe.
It could be a *dirty bomb*maybe, perhaps a *suitcase* nuke, possibly a biological attack, and should the Russians or Chinese really have the know-how, possibly a chance of an EMP blast that would truly wipe out the technology that we are nearly 100% dependent upon, the possibilities are LARGE and frightening.
The *religion of peace*, the most incredible misnomer of all time, has done it again, and will continue to do so until they, as a people and a*cult* are wiped from the face of this earth.
We are doing it to ourselves my friends, well, our government and the Libs, the bleeding hearts allow ALL Muslims into this nation and these Islamic bastards immediately demand that we acquiesce to their demands, they want us to turn America into a Muslim compliant 3rd World hell-hole.
Europe has already done it, and I have NO sympathy for France, Belgium or any other nation that has allowed the Muslim hordes to take control, but unless it's stopped, and I mean RIGHT NOW, America will have them running wild, shooting our people and raping our women.
We have to hold on until we have a new President, and somehow, I just don't see Donald Trump allowing the Muslims to take over America.