Muhammad Ali, 'The Greatest,' dies at 74
(CNN) – Muhammad Ali, the legendary boxer who proclaimed himself "The Greatest" and was among the most famous and beloved athletes on the planet, died Friday in Arizona, a family spokesman said. SOURCE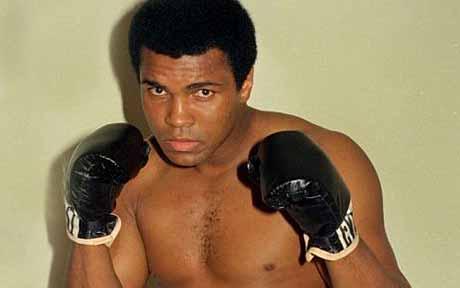 The Greatest? Really?
Sing his praises if you must, if you feel him worthy of praise, as for myself I remember him as a DRAFT DODGER and a Muslim. I hated draft dodgers and I still hate Muslims.
My hatred of Ali has nothing to do with him being Black, and yes indeed, he was one hell of a boxer, but he became a Muslim and he refused to serve the United States, for those egregious acts, MANY in MY age group offer NO forgiveness. 
Maybe Muhammad Ali was a conscientious objector, maybe he was totally against the war in Vietnam, so was damned near everyone that went there, but Ali would have NEVER seen any kind of combat, he would have been a *show piece*, he would have put on an exhibition of his skills all over the world, the only thing is, he'd be getting Army pay for doing it.
Give yourself over to Islam if you so desire, that's your choice, deny serving the United States the way Ali did and draw the ire of many Americans and Veterans.