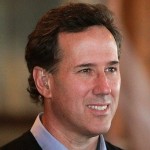 I have seen and read several reviews regarding Rick Santorum and his stand on the Second Amendment and guns. Overall, I had not been terribly impressed, but that may be about to change.
I offer these next few paragraphs, not as an endorsement, or in an attempt to detract from Rick Santorum in ANY way. I am merely hoping that some of the folks that read here actually have MORE information regarding Santorum, guns and his views on the 2A than I do.
Rick Santorum on Second Amendment Rights
"He [Rick Santorum] was the most effective advocate of bringing it [legislation to protect gun companies from frivolous lawsuits] to the floor and getting a vote scheduled. He used his influence to get it to the floor. Without that, we would have lost every American gun company."
– Wayne LaPierre, CEO – National Rifle Association, October 25, 2006

"On behalf of NRA members across the country, I want to thank Senator Rick Santorum for his support of the hunters and fishermen, and his work to preserve our country's strong outdoor traditions."
– Chris Cox, Executive Director – NRA-ILA, February 7, 2006

Coming from Pennsylvania, a state with a rich heritage of hunting and fishing, Senator Santorum understands firsthand the importance of preserving our constitutionally protected rights found in the 2nd Amendment. Senator Santorum fights to preserve this tradition, and will work to ensure these rights are not infringed upon.

As a Senator, Rick Santorum opposed frivolous lawsuits against the gun industry by supporting legislation (The Protection of Lawful Commerce Act) that would protect law abiding firearms manufacturers and dealers from frivolous lawsuits attempting to hold them liable for criminal acts of third parties.

Rick Santorum vehemently opposed the Assault Weapons Ban because he believes that there are more effective ways to stop gun violence, such as stricter enforcement of existing laws, than taking away the rights of law abiding gun owners.

Senator Santorum was also the proud author of legislation to eliminate the requirement that all hunters and fishermen furnish their social security numbers when getting a license. It was estimated that this legislation would help save 16 million hunters and another 24 million fishermen who buy their licenses every year from falling victim to identity theft. Firearms Today
Then there's this from the National Association for Gun Rights, but please, read this piece all the way to the end, there is a conflicting opinion at work here I believe. Santorum may not have returned the survey by NAGR, but he DID respond to, and return the one from Gun Owners of America, and I have it linked towards the bottom of this post. 
Rick Santorum's anti-gun history
Rick Santorum is stonewalling gun owners.

He is refusing to tell gun owners in Iowa where he stands on important Second Amendment issues.

Despite repeated attempts for Rick Santorum to return his National Association for Gun Rights Presidential Survey 100% in favor of our gun rights, he has time and time again remained silent.

Please call Rick Santorum right now and demand he return his National Association for Gun Rights Presidential Survey — at once. SOURCE
This next part gives the reader the same impression of Rick Santorum that I have had, it tends to send mixed signals.
Santorum's Second Amendment Issues
Senator Santorum's record on the second amendment is somewhat mixed. Some of Senator Santorum's record indicates that he supports strong second amendment rights. In 1993, Senator Santorum voted against the Brady Handgun Violence Protection Act, the Brady Bill. In 2004, he also voted against an extension of the Assault Weapons ban, and against an amendment to require background checks at gun shows.

On the other hand, much of Senator Santorum's record shows support for gun control to deter crime. In 1997, he voted for an omnibus spending bill that included the Domestic Violence Offender Gun Ban. This legislation would have made it illegal for men convicted of misdemeanor domestic violence or who have a restraining order to own a gun. In 2004, Senator Santorum also voted for legislation to require child locks on all weapons.

in 1996, Senator Santorum co-sponsored legislation to increase mandatory minimum sentences for criminals possessing firearms. Specifically, the legislation would have increased penalties regarding using or carrying a firearm and using or carrying a firearm while in possession of armor piercing ammunition during and in relation to a crime of violence or drug trafficking.

In addition to these items, Senator Santorum has repeatedly supported Project Exile. Project Exile was a federal program started in Richmond, Virginia in 1997. The project was designed to shift the prosecution of illegal technical gun possession offenses from state courts to federal court, where they carried a mandatory minimum sentence of five years in federal prison under the federal Gun Control Act of 1968. In 2000 and 2001, Senator Santorum co-sponsored legislation to implement this program. Specifically, that legislation would have amended the Violent Crime Control and Law Enforcement Act of 1994 to provide firearms sentencing incentive grants to eligible States that: ~MORE~
I don't like Mitt Romney or Newt Gingrich, I am trying hard to like Rick Santorum, I hope some of my readers have an insightful and positive message that they can share.
EDIT TO ADD: I got this late last night from my friend and neighbor, Rowlett City Councilman Michael Gallops.
Michael is a gun person, a strong supporter of the Second Amendment and I appreciate him sending me this. It's from the Santorum camp and Ladies and Gentlemen, I am taking them, and Mr. Rick Santorum, at their word.
Defending 2nd Amendment Rights
Rick Santorum fully supports the 2nd Amendment rights of gun owners in the United States, and has completed the Gun Owners of America 2012 Presidential Candidate survey. You can download the survey and read Rick's responses here.

Defending 2nd Amendment Rights

For his work on behalf of gun owners and sportsmen across the country, Senator Santorum consistently received the highest possible ratings from the National Rifle Association and gun owners groups from around the country.
Rick Santorum has an A+ rating from the National Rifle Association for his stand on the Second Amendment and gun owners RIGHTS!
I hope that you, the readers, have some positive things to add. I really want to support Rick Santorum, and unless something can be offered that can prove there is something wrong with him, NOT just an opinion, I mean something that is sourced to a mainstream political site, one with a stellar reputation and immaculate credentials, I am starting to believe that Rick Santorum may have a chance here.