Hill County town fears police influence is out of control
COVINGTON – Unless you turn at the blinking light at State Highway 171 and FM 67, you might not notice Covington, Texas, which is the way most in this tiny town want it.

Now, out of fear and frustration, they want the public to know.

"They are scared to death now," said Covington City Council member Marty Smith. "They lock their doors, they lock the car doors because they are scared of the police."

Smith said she also fears the man running the Hill County town, Police Chief Wade Laurence.

"Wade Laurence asked me what it was going to take to shut me up, and them to arrest me and handcuff me at a council meeting," Smith said. "I'm 69 years old and I don't need the hassle of it."

Full Story Here:
Hill County town fears police influence is out of control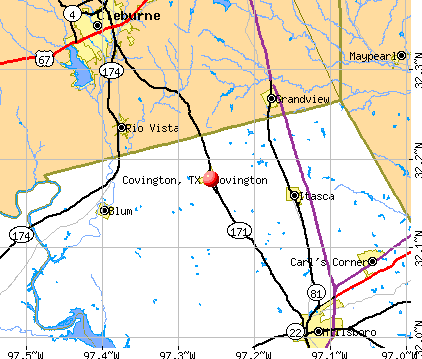 Covington is one of those quaint little places that Texas has many of. It's a small town of, at last count, 283 citizens. That's a small town.
Covington is, according to some of it's citizens, and members of the City Council, a town in trouble, one that is chafing under the thumb of what appears to a dictatorial, power hungry megalomaniac. Where have I heard THAT before?

Former Covington police officer Kayla Richardson said the trouble began one year ago when she discovered drugs missing from the police evidence locker. She said the only cop who didn't take a lie detector test was Laurence.

She said when nothing was done, she filed a complaint with outside authorities.

"I took this to the Texas Rangers and I also took this to Johnson County and gave it to them and told them what I thought was going on, and told them that people are starting to get threatened," Richardson said.

When no investigative body took up her complaint, Richardson says that's when Laurence's bullying began.
I am not going to make accusations against Chief Laurence, I don't know the man, but if ANY of this story is to be believed, one must also believe that the good citizens of Covington are bearing the brunt of an *attack dog* much similar to the one folks in Rowlett, Texas took on a while back in the form of an angry, and out of control Mayor.
"Once he found out that I was the one who told on him, he wanted me gone," she said.

One month later, Richardson was fired. The police chief accused her of not showing up to work when she was supposed to.
I am guessing that former Covington police officer Kayla Richardson had no one to turn to in Covington city government to even think about some sort of appeal process. A town that small would NOT be a part of a Police Union or Civil Service.
At a city council meeting last November, Richardson says the chief ordered the arrests of her boyfriend and a former mayor. Richardson's boyfriend was charged with assault. The ex-mayor was charged with credit card abuse. Both claim it was out of retaliation.

The day after the arrests, former Covington Fire Chief George Burnett gathered more than 60 signatures, nearly 25 percent of Covington residents, petitioning to have the police department disbanded.

That's when Burnett says he was threatened by the chief.
This seriously sounds like a Police Chief that's out of control and a City Council that is afraid to take him to task.
"The police chief and three other of his other police came down and were raising cane about me getting this petition signed," Burnett said. "They said I was starting a lot of trouble in town."

But the collected signatures have collected dust. The have never been presented to city council, because no meeting has taken place since November.
Pay attention Covington citizens; the road to HELL is paved with good intentions.
When town folks showed up for January's meeting, Mayor Pro-Tem Alan Snider abruptly canceled the meeting, saying he couldn't get a majority of council members to attend. Yet there stood council members Marty Smith and Rose Diaz, ready to attend.

"I find it very suspicious," said When town folks showed up for January's meeting, Mayor Pro-Tem Alan Snider abruptly canceled the meeting, saying he couldn't get a majority of council members to attend. Yet there stood council members Marty Smith and Rose Diaz, ready to attend.

"I find it very suspicious," said Council Member Rose Diaz.

By nightfall, several residents had gathered out front of city hall and the conversations all turned toward the police chief and his department. Among them was former council member Emma Marbut.

"I was threatened to go to jail by one of the officers when I was on the Council," Marbut said. "I immediately resigned, because there's one thing I don't need in my life, and that's jail.".
A Mayor, albeit, Mayor Pro-Tem, says he couldn't hold a meeting because there wasn't a majority present to hold a meeting, and 2 Council members are standing there, ready to hold a meeting? How big is the Council in Covington if the Mayor Pro-Tem and 2 Council members don't constitute a quorum? I am guessing that Covington only has a 5 member Council to begin with. I have to agree with Council Member Rose Diaz, this is very suspicious.
"The police have so much power and authority here, they've turned this into a little police state," said Covington resident John Whittington. "It's almost unbelievable."

When we tried to get a response from Chief Laurence and Mayor Pro tem Alan Snider, we were told not on camera. While neither wanted to discuss any of the complaints against them on camera, they both summarized their complaints by suggesting they are holding the trouble makers in town accountable.
I remember a certain Mayor that also accused everyone in sight of being nothing more than troublemakers, ne'er do wells out to make him look bad and intent on the disruption of City Government, and intent on putting an end to his reign of dominance and dictatorial buffoonery.
This seriously has that déjà vu feeling to it, just on a much smaller scale.
Covington resident Delores Wright agrees, saying she feels safer than ever now that Chief Laurence is running the department.

"He's just a down-to-earth, good, nice person," Wright said. "I hope he is police chief here forever."
As was the case in our recent tribulations with the former Mayor, there will ALWAYS be a few that support the dictator. Hitler had his fans too.
And while Chief Laurence oversees a four-man police department in a town of 283 people, the city faces steep fines from the state for a dilapidated and leaking water system fluoride mixing tank. The city clerk, who is also Laurence's girlfriend, never responded to our request for a copy of the city budget.

Since News 8 first started asking questions about missing drugs, the Texas Rangers have opened a criminal investigation.

A council meeting has now been scheduled for next week.

But some say as long as the chief is in charge, they still live in fear and in hopes that the public will slow down and take notice.
I have a few thoughts on this matter, and having had a bit of experience in the 'community activist' field I offer this;
1. Get you a Mayor and Council that are NOT afraid of this Chief.
2. Keep hammering. Bug the crap out of your County judges and the Texas Rangers.
3. Contact the Texas Attorney General in Austin. Greg Abbott will help anyone that's in the right and needs his help.
4. You have 283 people in Covington and you have 5 cops; do the math, they can't arrest the whole town.
Stage a massive, well, maybe massive isn't the right word, stage an all out protest against this Chief and his dictatorial ways. Call in the media, apparently WFAA.com is interested, and you can't have a better guy than Brett Shipp on your side in a fight for what's right.
Gather all of the people in Covington, have the facts in hand, a press pack of sorts, call in the media, invite the County Sheriff and the local Ranger(s) to attend and witness 1st hand what happens.
And the most important thing; KEEP IT PEACEFUL.
Don't start a riot, you WILL lose. Don't make asses of yourselves, state the facts and offer irrefutable citation, then sit back and let your Police Chief make a fool of himself in front of cameras and many witnesses.
If he is the narcissistic megalomaniac he appears to be, he will EXPLODE if his judgment and authority are called into question.
Trust me on that one…

EDIT TO ADD: I have had a couple of people that seem to be VERY concerned about this post being inaccurate. One claims to live in Covington but the IP tells me they are in Arkansas… That one looked like it was written by a *challenged* 2nd grader…
Then there was the *nasty* one, from a guy in Tooele, UT…
Why do people from Utah and Arkansas have to LIE and call names like children, NASTY little children, and represent themselves to be something they are NOT?