May Day in America and around the World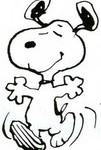 The 1st day of May.
Spring has truly sprung, trees have filled out, flowers have bloomed, the grass is green, nature is doing its thing and it's supposed to be a happy time.
Snoopy should be dancing his 1st Day of May dance, our kids should be happy and laughing and running around the May Pole, right?
Not so much. May Day has many meaning to many people. Now Russians calls it *Labor Day*, as opposed to their old way of looking at May Day as *Lets blow up the Americans Day*.
Russia celebrates Labor Day
During the Soviet era, May 1 was celebrated in Russia as International Workers' Day with massive Communist Party rallies. In 1992, the name was changed to the Day of Spring and Labor but it still remains a national holiday.

Russia's ruling duo, President Dmitry Medvedev and Prime Minister Vladimir Putin made a rare joint appearance at a May Day rally in downtown Moscow.

Full Story Here:
Russia celebrates Labor Day
And while Russia calls it Labor Day, others apparently see gloom, doom and elation. Talk about your huge bag of mixed NUTS! 😛
Workers express anger, gloom, elation on May Day
MADRID (AP) - On the front lines of May Day protests this year, along with the traditional chants, banners and marches, a gamut of emotions flowed through the crowds.

Anger. Fear. Elation. Satisfaction. Despair.

With Europe's unemployed denouncing austerity measures and Asia's laborers demanding higher salaries, Tuesday's May Day demonstrations were less a celebration of workers' rights and more a venting of fury over spending cuts, tax hikes and soaring unemployment. SOURCE
American anarchists call it *Lets blow stuff up and kill some Cops day*.
FBI: 5 men arrested, wanted to blow up Ohio bridge
CLEVELAND (AP) - Five men, at least three of them anarchists, plotted to blow up a bridge near Cleveland, but there was no danger to the public because the explosives were inoperable and were controlled by an undercover FBI employee, the agency said Tuesday in announcing the men's arrests.

The target of the plot was a bridge that carries a four-lane state highway over part of the Cuyahoga Valley National Park in the Brecksville area, about 15 miles south of downtown Cleveland, the FBI said.

Authorities said three of the men were arrested Monday and are self-described anarchists, not tied to international terrorism.

Occupy Cleveland media coordinator Jacob Wagner said at least some of the suspects had attended the group's events but that they weren't affiliated with or representing the group.

Full Story Here:
FBI: 5 men arrested, wanted to blow up Ohio bridge
Then we have this story from San Francisco:
Police prepare to respond to May Day protests
SAN FRANCISCO — May Day protests may disrupt the morning commute in major U.S. cities Tuesday as labor, immigration and Occupy activists rally support on the international workers' holiday.

Demonstrations, strikes and acts of civil disobedience are being planned around the country, including the most visible organizing effort by anti-Wall Street groups since Occupy encampments came down in the fall. SOURCE
And this:
Policing First Amendment events
One of the most valuable freedoms guaranteed by the United States Constitution is the right of persons and groups to peaceably assemble.

In 2011, the U.S. Department of Justice issued a resource called The Role of Law Enforcement at First Amendment Events. "As part of their duty to uphold the United States Constitution, law enforcement officers have the responsibility to protect persons engaged in their right to peaceably assemble," the document says.

The DOJ advises that officers are on site to "protect life and property" and to "ensure that all privacy, civil rights, and civil liberties protections are upheld." The DOJ guidance goes on to say that officers shall not: SOURCE
I am all for FREE SPEECH, I engage in it daily right here on the blog, but these May Day anarchists and Occupy cretins are NOT interested in FREE SPEECH, they are intent on their HATE SPEECH inspiring others to act out violently on their behalf in hopes that U.S. Law Enforcement will respond to that violence, thus allowing them (OWS) an opportunity and *justification* to act violently against the Police, and to possibly give them (OWS) the satisfaction of MURDERING American Police Officers.
Today I posted this on The Thin Blue Line – Coast to Coast on Facebook and quite frankly I don't give a DAMN how many of the anti-Police IIIpers, the Occupy cretins and the anarchists that seek to destroy America like it or not!
Be careful out there… I know, it's an OLD line, but one that bears much meaning today.. There are ANIMALS among us, and they have a desire to KILL Police Officers… Today is the day to forget political correctness, come home SAFE to your families when this day is done!
Don't take me wrong, I am NOT advocating the abolition of the First Amendment, but apparently, there is a site that actually keeps track of what these May Day anarchists and Occupy fools have to say. Eye on Occupy: 'Happy May Day, now go kill'
Somehow, calling for the murder of Police and others just doesn't qualify as FREE SPEECH in my book. It qualifies as terroristic threats and open anarchy.
There is a WAR going on in this nation, it's being waged on a daily basis. Most Americans aren't even aware it's going on unless they see a bit of coverage over dinner as they watch the evening news.
Many DO see it, but they are the true Patriots of America and the Police Officers that are responsible for keeping us all safe. God bless them one and all!
Some will never see what is happening, right up until the time that the anarchist revolution lands on their doorstep and devours them.
Then it's too late!
EDIT TO ADD: 15:17:44
Stinging gas sends May Day protesters fleeing
OAKLAND, Calif. (AP) - Hundreds of activists across the U.S. joined the worldwide May Day protests on Tuesday, with Occupy Wall Street members in several cities leading demonstrations against major financial institutions.

In Oakland, Calif., stinging gas sent protesters fleeing a downtown intersection where they were demonstrating. It was unclear whether police fired the gas, but officers took four people into custody.

Crowds had blocked intersections in the city and tried to force businesses to shut down for not observing calls for a "general strike." The city has been the scene of some of the fiercest clashes between police and Occupy protesters in recent months. SOURCE
I just LOVE a story that starts out saying "Stinging gas sends protesters fleeing". 😈
EDIT TO ADD: 16:56:17
May Day in Seattle: "All hell broke loose" at U.S. Court of Appeals; police expect more violence