Supposedly, it's ALL about Obama's RACE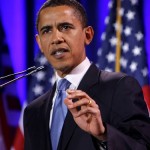 Let there be NO misunderstanding; I detest Barack Hussein Obama and everything he stands for. I detest his very existence. I detest his entire REGIME (administration) and every person involved in it, from his Vice President, Joe Biden, all the way through his entire Cabinet and every subordinate involved.
I honestly believe that if Barack Hussein Obama and his band of ne're do wells aren't removed from the White House and the offices of the United States, the United States will cease to exist as Barack Hussein Obama bypasses the Congress and Senate and rules this nation, yes, I said RULES THIS NATION, through executive order and Presidential edicts.
Barack Hussein Obama was supposed to be a person that would unite this nation, all races, creeds and religions, sadly, we suffer from more racial and religious division in this nation now than we have since the late 50's through at least the 1960's.
Because I feel that way, because I detest Barack Hussein Obama and everything he stands for, I am called a RACIST! Some people say I hate Obama simply because he is BLACK.
That is NOT the truth.
I do NOT detest Barack Hussein Obama because of his RACE or his skin color. You see, I hate Barack Hussein Obama through and through and I hate his WHITE, communist or socialist half just as much as I hate his BLACK communist or socialist half. I detest Barack Hussein Obama for what he says and does, NOT for what he is genetically.
So, lets take a look at what Barack Hussein Obama has done for America, the promises and the lies.
In 2009 Barack Hussein Obama said, "If I can't fix the economy in three years, you can call me former President Obama."
Barack Hussein Obama went on to say, "I will be held accountable," Obama said. "I've got four years and … a year form now, I think people are going to see that we're starting to make some progress, but there's still going to be some pain out there … If I don't have this done in three years, then there's going to be a one-term proposition." SOURCE
Well, maybe we can think of him as "former President Obama". I see NO progress.
Our economy is a long ways from *fixed*. Unemployment numbers are skewed, many more Americans are out of work or under-employed than at any time since the Great Depression. Many Americans have simply given up on finding a decent job.
Interest rates are in the tank. Once upon a time a family could put some money into a savings account, an annuity or the like, and they could count on a modest return. Today you're lucky if the current market (the economy) doesn't devour every dollar invested.
Barack Hussein Obama has a fondness for lying to the American people.
Obama promised not to hire lobbyists and not to raise taxes on people making less than $250,000 per year. He would post every bill online before he signed it and he promised to negotiate health care reform publicly — those are all lies. SOURCE
Then we have ObamaCare.
Barack Hussein Obama and a Democratic Congress foisted this debacle off on an American public that didn't want it. Well over 50% of the American people support the idea of repealing ObamaCare. SOURCE
Barack Hussein Obama has another fondness, for Czars. As of right now he has 38 Czars according to this source, but in ALL fairness, George W. Bush had 33 Czars. So, maybe it really was Bush's fault. Obama had to *best* GWB maybe?
Personally, I detest the title *Czar*. It conjures up images of Imperial Russia and the grand debauchery it was and the communism it led to.
There is even more about Obama and Company that literally angers me; the utter arrogance of Obama, his abuse of power, his constant vacations, on OUR dime, the almost dictator tone that Obama uses as he makes his case for why HE is the smartest man in America and why HIS decisions are made in the best interest of America, when in fact, most of his decisions and opinions are in direct opposition to those of the Constitution of the USA and the wants and needs of the average American.
Obama seems to not care what the American electorate thinks. I believe his arrogance blinds him to the fact that he is nothing more than a man that happened to *con* a certain portion of the American electorate into voting for him.
Hopefully, in November the American people will rectify this mistake and drive Obama from office. Hopefully, our next President can reverse the ills brought on this nation by the regime of Barack Hussein Obama, and not in a small way, the administration of George W. Bush as well.
You see, I blame Bush for the sorry state of this nation almost as much as I do Obama. I blame George W. Bush for sending this nation to war in Iraq, I blame Bush for the deaths of the service members lost in Iraq and I blame Bush for the untold BILLIONS of U.S. tax dollars that were wasted on a nation that has indeed reverted to the state of disarray that I told my readers it would.
American lives, sacrificed in vain, and an American economy, sunk all because GWB had a bad case of *butt hurt* just because Saddam threatened his *Daddy*.
Unlike Obama, I am not going to make a huge case of saying *It's Bush's fault*.
It's Obama's economy now and his own words need to haunt his every waking moment AND his dreams: "If I can't fix the economy in three years, you can call me former President Obama."
That's about as much as I can say about Barack Hussein Obama and not get into serious trouble, but I am thinking that this post DOES point out, rather well, at least for me, it's not about his RACE, it's about his ACTIONS!
Oh yeah, if YOU happen to agree with ANY of this, you too are a RACIST!