Intel Source Challenges Obama's Account of Deadly Consulate Attack
An intelligence source on the ground in Libya told Fox News that there was no demonstration outside the U.S. Consulate in Benghazi prior to last week's attack — challenging the Obama administration's claims that the assault grew out of a "spontaneous" protest against an anti-Islam film.

"There was no protest and the attacks were not spontaneous," the source said, adding the attack "was planned and had nothing to do with the movie."

The source said the assault came with no warning at about 9:35 p.m. local time, and included fire from more than two locations. The assault included RPG's and mortar fire, the source said, and consisted of two waves.

The account that the attack started suddenly backs up claims by a purported Libyan security guard who told McClatchy Newspapers late last week that the area was quiet before the attack. Fox News
Barack Hussein Obama and his band of ne'er do wells have done it again. They are trying to protect radical Islam by forwarding the excuse that the recent Embassy attacks were spontaneous and brought on over some obscure YouTube video, they were NOT.
Once again reliable Intel sources have pointed out that Obama is WRONG! Somehow, I don't think that finding is going to affect the actions of the most USELESS President in American history nor will it deter his supporters.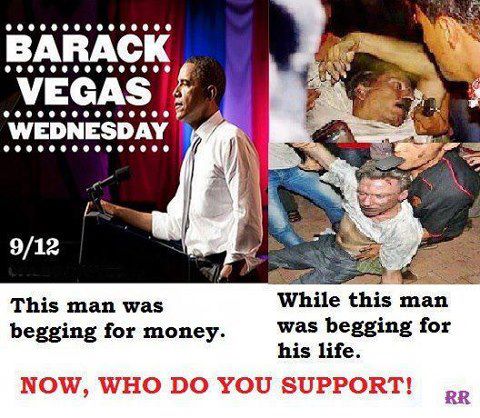 In the spirit of *Fair and Balanced*; before George W. Bush ordered the invasion of Iraq because Iraq had, in GWBs opinion, WMDs that threatened U.S. interests and were complicit in the attacks of 9-11-01, Intel sources tried their best to tell Bush that it just wasn't that way.
Presidents don't like to hear views that are contrary to their own.