If 'Assault Weapons' Are Bad…Why Does DHS Want to Buy 7,000 of Them for 'Personal Defense'?
The Department of Homeland Security is seeking to acquire 7,000 5.56x45mm NATO "personal defense weapons" (PDW) — also known as "assault weapons" when owned by civilians. The solicitation, originally posted on June 7, 2012, comes to light as the Obama administration is calling for a ban on semi-automatic rifles and high capacity magazines.

Citing a General Service Administration (GSA) request for proposal (RFP), Steve McGough of RadioViceOnline.com reports that DHS is asking for the 7,000 "select-fire" firearms because they are "suitable for personal defense use in close quarters." The term select-fire means the weapon can be both semi-automatic and automatic. Civilians are prohibited from obtaining these kinds of weapons.

The RFP describes the firearm as "Personal Defense Weapon (PDW) – 5.56x45mm NATO, select-fire firearm suitable for personal defense use in close quarters and/or when maximum concealment is required." Additionally, DHS is asking for 30 round magazines that "have a capacity to hold thirty (30) 5.56x45mm NATO rounds."

Republican New York state Sen. Greg Ball also issued a press release this week bringing attention to the weapons purchase request.

Full Story Here:
If 'Assault Weapons' Are Bad…Why Does DHS Want to Buy 7,000 of Them for 'Personal Defense'?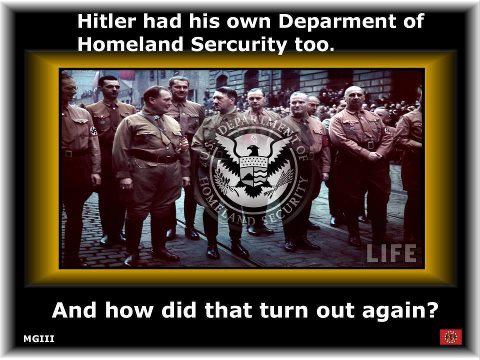 I am truly past the point of giving a DAMN regarding how many Progs, Libbers, Dems or any other assorted MOONBATS I offend with MY opinions on guns and my support of the Second Amendment as it is written!
I have lived far too long to be concerned over the feelings of a Dem/Libber. I don't like them, they don't like me … seems like a fair swap.
They hate the idea that an American can OWN what THEY call an *assault rifle* but when pinned down on the issue, none of them can even DEFINE what an *assault rifle* is.
The Dem/Libber seems to think that the AR-15 is a weapon of WAR. It is NOT, but if DHS wants them they are called "Personal Defense Weapons".
The AR-15 is a semi-automatic shoulder fired rifle that shoots the 5.56 NATO round or the .223 configuration, and yes, that IS the very same caliber that the U.S. military uses in some of its weapons, but the round itself doesn't make even the Military version of the AR-15, the Carbine, 5.56 mm, M-4, an assault weapon.
The M-4 is a combat rifle, that IS true, but an assault weapon it is NOT. It doesn't shoot a big enough round far enough or accurately, and it doesn't destroy large quantities of *stuff*.
An AR-15 fires one round every time you pull the trigger, the M-4 also fires one round every time you pull the trigger, but unlike the AR-14, the M-4 has a selective fire switch that allows the operator to fire a 3 round burst with one pull of the trigger.
The M-4 is NOT a fully automatic weapon, ie: one that fires constantly as long as the trigger is depressed, it is a combat rifle, nothing more, nothing less, and in its civilian configuration, the AR-15, it is a great hunting rifle for SMALL game, it is an excellent home defense weapon and it is a lot of fun to shoot on the range if ammo is available to engage in such activity.
I don't give a DAMN if DHS wants or gets themselves 7,000 AR-15′s, M-4′s or any other type of 5.56 weapon. I'd be willing to bet that there is a lot more than 7,000 of them in civilian hands right here in Dallas County.
Obama can have his DHS (Gestapo) or whatever you want to call it, we are NOT going to fall into the same trap that left the Jews defenseless before and during WWII.
COME AND TAKE IT!