TX. Sen. John Cornyn and the Houston Hispanic Chamber of Commerce Luncheon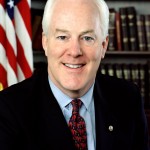 Yesterday, March 28, Sen. Cornyn posted on Facebook about his luncheon with the Houston Hispanic Chamber of Commerce, the Hispanic Chamber of Commerce!
I take exception to that and I am not at all bashful about saying so. I posted this comment on Sen. Cornyn's Facebook feed:
Fred Witzell – "Just wondering; what would I be called if I started a *Caucasian Chamber of Commerce*? I think we ALL know the answer to that one… Kind of funny actually, it's not racist when THEY do it…"
Then I was inspired to send the following to Sen. Cornyn because, you see, I am NOT joking; I find this to be a very RACIST thing, this Hispanic Chamber of Commerce.
There are African-Americans, Mexican-Americans, Asian-Americans, Arab-Americans, Native-Americans, etc.

And then there are just – Americans.

Some of you pass me on the street and sneer in my direction.

You call me 'White boy', 'Cracker', 'Honky', 'Whitey', 'Gringo' or 'Caveman', and as far as you are concerned, that's OK, but if I say so much as one word that you consider to be out of line, I am branded as a vile racist.

You say that whites commit acts of violence against you … so why are the ghettos the most dangerous places to live?

You have the United Negro College Fund, Hispanic History Month, Martin Luther King Day, Asian History Month, Black Entertainment Television, Black History Month, Cesar Chavez Day, Kwanzaa and the NAACP.

If we had WET (White Entertainment Television), we'd be called racists.

If we had a White Pride Day, you would call us racists.

If we had a White History Month, we'd be called racist for that.

If we had any organization for Whites Only to 'advance' OUR lives, we'd certainly be branded as racists.

There's a Hispanic Chamber of Commerce and a Black Chamber of Commerce.

Then we have the Chamber of Commerce, not a White Chamber of Commerce, just The Chamber of Commerce.

If we had a college fund that only gave white students scholarships, you know we'd be called evil racists.

There are openly-proclaimed Black-Only Colleges in the US, yet if there were 'White-Only Colleges', why THAT would be a racist college, and probably illegal.

In the Million-Man March, you believed that you were marching for your race and rights.

If we marched for our race and rights, you would call us bog dwelling, redneck racists.

You are proud to be black, brown, yellow and red, and you're not afraid to announce it.

But when we announce our White Pride, yeah, you got it, we get called racists, NAZIs and a lot worse.

You can rob us, carjack us, and shoot at us, and we're supposed to sit back and take it? Nope, not gonna happen!

So why is it that when a white police officer shoots a black gang member, or beats up a black drug-dealer that's running from the LAW, and posing a threat to ALL of society, why do you call that police officer a racist for simply doing his job?

I am White and I am proud, but, you call me a racist.

Why is it that only whites can be racists?
It's not too often that I make a post accusing others of RACISM, I know what it feels like to have those accusations thrown at me, even when they aren't true, but I am very sincere in this statement; if Caucasians had ANY organization that was labeled as a WHITE anything we would be castigated by every person of color in this nation.
Racism is WRONG, no matter who is engaged in it.
And for what it's worth, I have received NO reply from Sen. Cornyn.