Governor declares West a disaster area; search and rescue efforts continue
WEST — Search and rescue teams from across the state were "methodically" searching heavily damaged buildings for survivors Thursday morning, some 15 hours after a powerful blast at a fertilizer plant in the small central Texas town of West.

The fatality count stood at "five to 15″ at first light, but was expected to rise, officials said. More than 160 people in the town of about 2,800 were injured in the blast, which registered 2.1 on the earthquake scale.

Gary Adair, son of the plant's owner, told the Star-Telegram that the plant, the decades-old West Fertilizer Co., had been closed for about three hours when the explosion occurred. He said the family had no idea what prompted the fire and explosion.

Several of the volunteer firefighters who had responded to the initial fire remained unaccounted for Thursday, Waco police Sgt. William Patrick Swanton said.

One of those firefighters is Morris Bridges. His son, Brent Bridges, 18, said the family has been told that he is still missing and probably didn't make it.

Brothers Robert and Doug Snokhous are also among the volunteer firefighters unaccounted for.

Though in Florida, Marqee Snokhous spent the early morning calling every hospital in hopes of finding that her father, Robert Snokhous, and uncle were among the injured, and not the missing or dead. SOURCE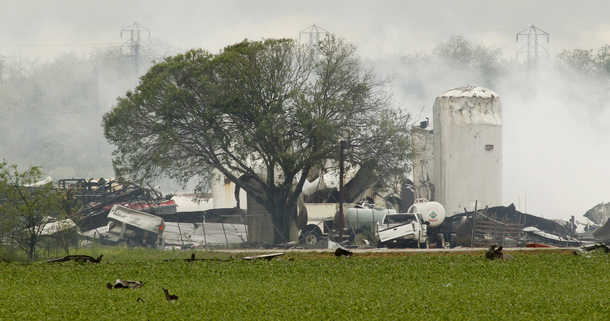 There is a lot we know, there is a lot more we DON'T know and I am not going to speculate regarding fatalities, causes or responsibility. There will be time for that at a later date.
All I can say right now is that this is a tragedy and the people of West, and Texas as a whole, are suffering, but we're TEXANS, we will cope, we will survive, we will rebuild and we will take care of our own.
We will mourn together, we will PRAY together and we will never forget those that were lost doing their DUTY to the community they lived in.
My most sincere sympathies to ALL in the town of West, I pray for your safety, that of your First Responders, the officials that are trying to unravel this mess and for the family and friends of those that are lost to this world.