Attorney for Whistleblower: 400 U.S. Missiles Stolen in Benghazi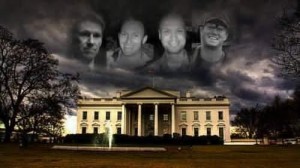 On August 12, Joe DiGenova, attorney for one of the Benghazi whistleblowers, told Washington D.C.'s WMAL that one of the reasons people have remained tight-lipped about Benghazi is because 400 U.S. missiles were "diverted to Libya" and ended up being stolen and falling into "the hands of some very ugly people."

DiGenova represents Benghazi whistleblower Mark Thompson. He told WMAL that he "does not know whether [the missiles] were at the annex, but it is clear the annex was somehow involved in the distribution of those missiles."

He claimed his information "comes from a former intelligence official who stayed in constant contact with people in the special ops and intelligence community." He said the biggest concern right now is finding those missiles before they can be put to use. "They are worried, specifically according to these sources, about an attempt to shoot down an airliner," he claimed.

On August 4, Breitbart News covered a report in The Telegraph that said 35 CIA operatives were working in Benghazi when the attack against the consulate took place. The Telegraph claimed these operatives were allegedly in an "annex near the consulate [working] on a project to supply missiles from Libyan armories to Syrian Rebels." SOURCE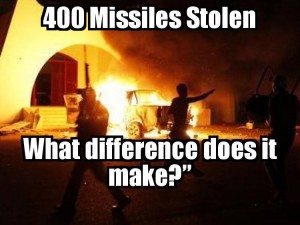 OK America; I AM BACK, and I am as angry as I can possibly be with the EVIL regime of Barack Hussein Obama and his band of anti-American stooges!
I have been pretty much off-line since Sunday and, as luck would have it, this story hit and the first I heard of it was when my good friend Brady called to check on me and asked me what I thought about this.
Honestly, I told Brady, who just happens to be the Owner and Operator of The Right Handed Cowboy that I was going to have to look into this one a bit, simply because I just couldn't see ANYONE allowing 400 of what I have to presume to be *surface to air* missiles to just be stolen.
And when you consider the report of there *supposedly* being 35 CIA operatives that were working in Benghazi when the attack against the consulate took place, it just blows the mind of anyone that has even a remote idea of how these things are supposed to work.
Months earlier, following then-Secretary of Defense Leon Panetta's February 7 testimony on Capitol Hill about the Benghazi attacks, Senator Rand Paul (R-KY) suggested that one of the causes behind the terrorist attack "may have been that there was a gun running operation going on in Benghazi, leaving Libya and going to Turkey and [distributing] arms to the [Syrian] rebels."
I have speculated in posts recently that IF there was a *gun running* operation taking place at the facility in Benghazi that this may have been the reason behind the failure to even TRY to execute a rescue attempt. Gun running is NOT something the Obama regime is a stranger to; think Fast and Furious.
The difference here being; the CIA should be a lot better at *gun running* than the BATF. Just saying.
There is absolutely nothing that Obama and Company could do that would surprise me. What DOES make me pause and think is this; Rep. Darrell Issa and Sen. Rand Paul are the only ones that are raising a real *stink* about this in Washington.
What are all the *other* Republican Congressmen and Senators afraid of? Why aren't they ALL jumping all over this and the other *phony scandals* that Obama and his band of criminals engaged in?
Enquiring minds, and American VOTERS want answers!