DHS employee behind racist website on paid leave
WASHINGTON (AP) — The Homeland Security Department says an employee who runs a racist website predicting and advocating a race war has been put on paid administrative leave.

An acquisitions officer for Immigration and Customs Enforcement who deals with small businesses, Ayo Kimathi, operates the website War on the Horizon. It includes descriptions of an "unavoidable, inevitable clash with the white race." Kimathi is black.

Kimathi has been with the department since 2009. He was told Friday that he is being put on paid administrative leave.

His website criticizes whites, gays, those of mixed race, and blacks who integrate with whites. The Southern Poverty Law Center, which monitors hate groups, earlier this week reported on Kimathi's role in running the site.

Kimathi hasn't responded to email and phone calls requesting comment. SOURCE
Did you see this story in the news? A DHS (Department of Homeland Security) employee is behind a racist website that calls for RACIAL WAR in America, actually predicts a race war and advocates FOR a race war in America is outed?
A guy that works for the DHS, involved in blatant acts of racism and advocating the commencement of a race war … and he's placed on paid administrative leave?
Have you heard this one?
Now I don't know about you, but where I come from paid administrative leave is called VACATION! It most certainly isn't any type of punishment. He's being paid to stay away from work, apparently still working on his web site and racist ideas, and NOW he gets paid to do so and WE, the American taxpayer, are the ones paying him!
For crying out loud, this guy, Ayo Kimathi, works for DHS, the capacity of his job be damned, he works for DHS and not only predicts a race war, he advocates a race war in America.
Maybe now we know WHY the DHS bought all that ammo, the tanks and so forth. Maybe the threat from our Federal government is real after all.
Don't think for one minute that I am going all *Alex Jones* on you, I don't play the conspiracy theory game in any way at any time, but let's assume that there is a somewhat logical conclusion to all of this and let's also assume that the New Black Panthers and their stalwart supporter, U.S. Attorney General Eric Holder and his boss, Barack Hussein Obama are behind some of these *issues*.
Here is King Samir Shabazz, a leader of the New Black Panthers, engaged in obvious and blatant acts of voter intimidation during the 2008 elections at a polling place in the city of Philadelphia.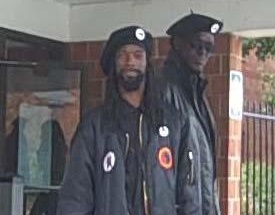 We already know that Eric Holder loves him some Black Panthers, and I have to presume, so does Barack Hussein Obama. Holder allowed the Panthers to *skate* on what should have been serious, heavy duty charges of VOTER INTIMIDATION.
And here is a link to the ideas that the New Black Panthers Party like to foster: New Black Panther Field Marshal: Whites 'Should be Thankful we're Not Hanging Crackers By Nooses…Yet'. And all the while the Obama regime totally ignores the racist actions and threats of racial violence that the NBPP voices.
So, with the intentional DOJ persecution of George Zimmerman over the death of Trayvon Martin and the intentional disregard for the rather large number of WHITE folks that have been shot by Black hoodlums of late, coupled with the more than obvious fact of the matter, voter intimidation being totally ignored by the entire Obama administration, I am not at all surprised at the actions at and OF the DHS nor am I thinking I have become a conspiracy nut in writing this piece.
Now, I say to ALL of you, and I mean this most sincerely; if it's a RACE WAR these bastards want, let it happen NOW!
I am not getting any younger or healthier ya know.