Obama awards Medal of Honor to Afghan war veteran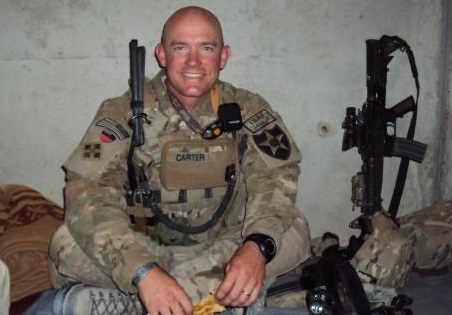 WASHINGTON (AP) – President Barack Obama bestowed the Medal of Honor on Army Staff Sgt. Ty Carter on Monday, saluting the veteran of the war in Afghanistan as "the essence of true heroism."

Carter risked his life to save an injured soldier and to resupply ammunition to his comrades during intense fighting in a remote mountain outpost four years ago.

"As these soldiers and families will tell you, they're a family forged in battle, and loss, and love," Obama said as Carter stood at his side and members of his unit watched in the White House East Room.

The Oct. 3, 2009, battle occurred while Carter was stationed at Command Outpost Keating. U.S. troops were vastly outnumbered by 400 Taliban fighters. SOURCE
The first, and foremost thing I have to say here is to Staff Sgt. Ty Carter; YOU young man are the very fiber and embodiment of all things an American soldier is and should be! I salute you and your efforts, your bravery, your dedication and I feel that you are as deserving of this Medal of Honor as anyone that has ever received it.
YOU are living proof that American courage is NOT dead.
Now I feel that I must say this; having the Medal of Honor presented by Barack Hussein Obama, the most dishonorable president in American history, is a disgrace to the Medal itself and lessens it importance in MY personal opinion.
In February, Obama bestowed the Medal of Honor on another survivor of that firefight, former Staff Sgt. Clinton Romesha.

It was the first time since the Vietnam War that two survivors of the same battle were presented with the Medal of Honor, the nation's highest military honor.
As stated above, YOU Staff Sgt. Carter are totally deserving of this great honor, as is Staff Sgt. Clinton Romesha and you will be honored for the rest of your lives, as is only right.
There is one thing I wish you or Romesha had done though; I wish at least one of you had taken the very difficult road of making a decision to NOT accept the Medal of Honor from Barack Hussein Obama. I wish that at least one of you had stood and said, 'Mr. President, I am going to decline this honor and do so because you Sir are the most dishonorable president in American history and I feel that the very fact that you even touched this Medal only denigrates it and cheapens its virtue.'
"Let me say it as clearly as I can to any of our troops or veterans who are watching and struggling," Obama said. "Look at this man. Look at this soldier. Look at this warrior. He's as tough as they come, and if he can find the courage and the strength to not only seek help but also to speak out about it, to take care of himself and to stay strong, then so can you."
And let me say it as clearly as I can, Barack Hussein Obama, you are NOT a warrior. You are NOT tough. You have NO courage, no honor and no disenable leadership skills.
You, Barack Hussein Obama, are a disgrace to this nation and everything it has ever stood for!