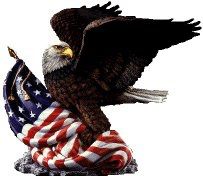 Fears about fallout from GOP divide with tea party
FLETCHER, N.C. (AP) – Tea party activists, once unquestioned as a benefit to the Republican Party for supplying it with votes and energy, are now criticizing GOP leaders at seemingly every turn. SOURCE
We have all heard it said before; 'America is in a lot of trouble', and that my friends is the truth!
We have political troubles, we have money troubles, we have moral and spiritual troubles, and we have a government that threatens Americans if they denigrate Islam yet have no qualms about banning prayer, Christian prayer, in American classrooms.
We have schools, right here in America, that want to ban the pledge of allegiance, stop all Christian prayer before a sports event and take ALL reference to Christianity and Judaism OUT of American education.
We have a President that has said he will no longer wear an American flag lapel pin because it has become a substitute for "true patriotism" since the Sept. 11, 2001, terrorist attacks. NBC News
We have an American President that is not fit to hold the office and should have been the most easily defeated presidential candidate in U.S. history except for the fact that the American people have slipped into a malaise that has rendered them so apathetic that they voted for Barack Hussein Obama, not once, but twice, and all on the promise of FREE STUFF, Hope and Change and in all honesty, because he, Obama was the first Black President in U.S. history, was thought to be the one that would end all racial strife in America and was believed to be, by some, to be the Second Coming of Christ.
Well, it looks to me like Obama, the Democratic Party, Obama supporters and the FREE STUFF crowd has struck out on ALL counts.
We must face the facts too though; the responsibility for Obama's infestation of the Oval Office isn't ALL the blame of the Dems and the Obama bunch; much of that responsibility rests squarely on the shoulders of Republican Party and the RNC for their incredibly weak offerings in the last two presidential races.
John McCain was a walking disaster right from the start; he bears the persona of an angry and confused old man that has stayed in office long past his usable shelf life. McCain is a total *wild card* and you can never count on him to be anything more than a RINO, a Republican In Name Only.
McCain was known then, as he is now, as someone that will attack the Dems on every point on one day and stand WITH the Dems on every point the next day. He is seen as a *flip-flopper* and a daft old bird.
The next sacrificial lamb was Mitt Romney.
I supported Romney, much more than I supported McCain, I saw Romney as a decent man, an honest man, one with great integrity and no chance of EVER having a personality and Obama trounced him as he did McCain.
Now we're looking at the 2014 mid-term elections as they rapidly approach and the battle seems to be shaping up, not between the Dems and GOP but between the GOP and the TEA Party.
We all know that politicians make stupid statements from time to time, some more than others, but right here in Texas we have some TEA Party folks that are about as dumb as it gets.
One of my friends, a former Rowlett TEA Party activist, sent me this today: Freshman Tea Party Rep. Steve Stockman (R-Texas) said he'll vote to authorize military action against Syria if President Obama returns his Nobel Peace Prize. SOURCE
He then followed it up with this very brief remark: "Typical Tea Party nutcase…"
What can you say? The truth can cut deeply, and few words are necessary; some TEA Party people are notorious for making outlandish statements, backed by little or no facts, it's just all about the way they *feel* at the moment. If that's not true then please explain to me WHY Obama giving back his Nobel Prize would have ANY bearing on a vote to strike Syria.
And then there's the local TEA Party activist in Garland, Katrina Pierson, that called a disabled Veteran *DEFORMED*. Pierson wants to challenge Pete Sessions for the TX-32 Congressional seat.
What all of this leads me to is this; America has got to wake up, we have got to stop electing destructive MORONS, RINOs and people that run their mouths with no thought to the consequences.
We hear a lot about American Exceptionalism, we need to see a return to that American Exceptionalism right about now, and a lot less of the exceptionally STUPID thoughts and statements that make up the base of ALL political parties of late!