Tea party activist Katrina Pierson to challenge incumbent Pete Sessions for Congress
Tea party leader Katrina Pierson said Thursday that she's challenging incumbent Pete Sessions for Congress.

After she announced her intentions to run against Sessions, Pierson was quickly endorsed by the political arm of the conservative group FreedomWorks.

"Far too often politicians who have been in Washington too long put their interests ahead of us – my family – my neighbors. Their selfish, corrupt dealings are harming our freedoms and rapidly stripping us of our liberties that were bought at the ultimate price," Pierson said in her first campaign news release. " Politicians who have been in Washington far too long — who once had the appearance of stellar voting records — have rapidly sacrificed their principles in the name of political expediency."

Pierson, R-Garland, has criticized Sessions for not standing up for conservative principles. SOURCE
Many here in North Texas see the *TEA Party Activist* label and immediately jump on the band wagon for the person wearing it.
Well, in *some* areas of North Texas the TEA Party is NOT the desirable label to have. I, for one, will not endorse nor support Katrina Pierson simply because I just don't like the woman.
Of course there will be those that say I don't like her because she is black or because I'm supposedly afraid of strong women and am a misogynist. Nothing could be further from the truth! I don't like Katrina Pierson because she was so STUPID as to refer to an injured Veteran as *DEFORMED*.
Cruz supporter apologizes for calling disabled vet, a Dewhurst backer, 'deformed'

ORIGINAL POST: A conservative activist from Garland who appeared in GOP Senate hopeful Ted Cruz's first TV spot called a decorated, wounded military veteran "deformed" in a comment on Twitter on Saturday.

Katrina Pierson also protested that Cruz rival David Dewhurst was exploiting medically retired Marine Capt. Daniel P. "Dan" Moran of Cypress, by featuring him in the lieutenant governor's introductory video at the state Republican convention in Fort Worth.

"David Dewhurst exploits deformed disabled vet in intro video," Pierson wrote. "So sad."
Yes, she DID apologize, and if Dan Moran is willing to accept that apology, OK, that is HIS decision. As for me, I am of the opinion that Katrina Pierson is what I like to call *a basic moron*, one that has NO business making public statements and NOT someone that I can support.
Some folks don't seem to think Pierson is a bad choice, she has garnered a bit of support on the Dallas Morning News story from above. Some of the comments from the DMN are here;
Manu Dance – Pete has been in office for what 17 years take a break from Washington DC and become a lobbyist or something

Manu Dance1 – Kid inviting Pete Sessions to a Townhall http://www.youtube.com/watch?v=O9PrcHcl2Q0

Pierre Galois – Katrina, thanks for giving us the choice of replacing Pete Sessions. You can count on my support. We really need to replace politicians like Pete who have no respect for the voters on District 32. Good luck!

podod12 – Texas you need to get rid of Pete Sessions! He is blocking the truth on Benghazi He refuses to sign HRes36 for truth! Complicit in cover up!

Tim Rowland – Politicians who are approaching a 20-year career in their positions need to be shaken up, or they settle into the status quo. GO Katie!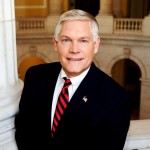 I seriously agree with the comment from Tim Rowland, term limits need to be mandatory for ALL elected officials. Serving in the Senate or House doesn't need to be a career, for ANYONE!
Do I think Pete Sessions is *The Perfect Congressman*? No, I don't, but I also don't know if such exists.
I too have taken Pete to task over what I believe to be his *obvious* uninvolvement in the Benghazi affair and the far less than satisfactory response to that incident from the Obama administration regarding what happened, what didn't happen, all the why's and wherefores.
Rep. Sessions apparently thinks that his voice isn't needed there, at least not at this particular time, and he explained to me that he is "too busy with the Chairmanship of the House Rules Committee" to get involved in the Benghazi affair. Maybe he feels that Rep. Issa is doing such a wonderful job that he, Sessions, doesn't need to step in at this time.
In all fairness, Pete DID call me personally and tell me his reasons, and for that I greatly respect him. I never got a personal response or interaction from the Gentleman that Pete replaced when redistricting took place and took Sam Johnson to another area.
I will say this to all of my fellow residents of TX-32, do your homework on the candidates; don't let the TEA Party moniker influence you. Do your own research, stack the candidates up side by side and do a bit of comparison.
If you still think Pierson is the best, then that would be your decision. I can't see military Veterans supporting a woman that called one of their own *DEFORMED*…