FBI to probe deputy shooting of California 13-year-old who had pellet gun
SAN FRANCISCO – The Federal Bureau of Investigation is conducting an independent investigation of the fatal shooting of a popular 13-year-old boy by a sheriff's deputy in Northern California.

Sheriff Steve Freitas said in a statement Friday afternoon that he will cooperate fully with federal investigators and welcomes their participation in the probe of Andy Lopez's killing on Tuesday afternoon. The shooting has generated numerous protests and marches in the suburban town of Santa Rosa, with many residents questioning the deputy's decision to fire on the youth.

Freitas also expressed sympathy to the Lopez family and thanked the Santa Rosa community for keeping protests peaceful.

Police say Lopez was carrying a pellet gun that looked like an AK-47 assault rifle. Fox News
This is the *Toy Gun*, the replica AK-47 that Andy Lopez was carrying.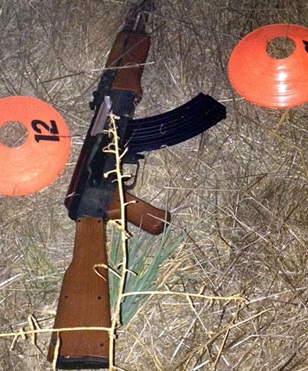 This is a REAL AK-47.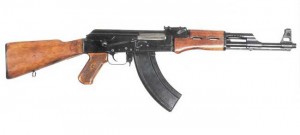 Can YOU tell the difference? No? Don't feel bad about it, I can't either.
A timeline released Thursday by the Santa Rosa police shows that only 10 seconds passed from the moment that the sheriff's deputy and his partner called dispatch to report a suspicious person to the moment they called back to say shots had been fired.
At full cyclic rate, an AK-47 can fire about 600 rounds per minute. SOURCE
Did you catch that? 600 rounds per minute!
To all of those ignorant people complaining about how the Officers fired too soon I say this; in that 10 second window between the 1st radio traffic and *shots fired* this *kid*, had the gun been REAL, could have emptied a 30 round magazine in the direction of the Officers and been well into a 2nd magazine if he had put any planning or forethought into his actions whatsoever.
*Oh but Fred, he was just a 13 year old kid, he didn't know what he was doing*…
That excuse will NOT work with me or anyone else that has ever been involved with the military or police and security work, especially if that security work was in Iraq or Afghanistan. These people will tell you, as will ANY Veteran with WAR experience; a 13 year old *kid* will kill you faster than an adult.
Anyone that's ever been a street cop, Detective, Narcotics Agent, whatever the case may be, they too will tell you the same thing, a kid with a gun is more dangerous than an adult. You see, a KID at that age has no REAL WORLD experience and as far as they are concerned, after you get shot, shoot someone, blow them up or the like, you just hit the re-set button and play the game all over again.
That's NOT how it works in the REAL WORLD, and I say this in good conscience; if I had been one of those Officers, if I had been there WITH those Officers and had seen that *replica* of an AK-47 being raised and swung in MY general direction, I'd have shot the little cretin too.
But you see, in all reality, an Officer has a split second to make a *life or death* decision, the shooting board, Internal Affairs and the FBI can take years to analyze the Officers' actions. I hope these Officers come out well in their investigation and if they are proven to be in the right they need to never hear another single word of condemnation from anyone.
Somehow, I sense that these Officers did what they had to do, but the *bleeding heart* Police Haters in the neighborhood only want to see the Officers suffer for their actions.
Believe me when I say this; these Officers, and many like them, may not be *suffering* in the traditional sense of the word but there will never be another day go by, for as long as they live, that they don't re-live this shooting or see the *kid* in their dreams.
I also want to say, I really am sorry that Andy Lopez died like this, being shot to death over a *TOY GUN*, but I am extremely happy that the Officers weren't shot and killed had it not been a *TOY GUN*.