Price and Valdez feud over racial makeup of Sheriff's Office command staff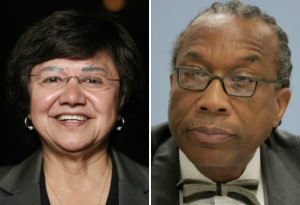 The racial composition of the Dallas County Sheriff's Department command staff – the top group of chief deputies and assistant chief deputies – has ignited a dispute between two of the county's most prominent Democrats.

County Commissioner John Wiley Price is battling Sheriff Lupe Valdez, a fellow Democrat, over her proposed promotion of a white man to an assistant chief deputy position that had been previously held by an African-American woman.

Price, who is African-American, fumed in an interview that the sheriff's department's seven-person command staff would then have only one African-American – Chief Deputy Marlin Suell – for what he said was the first time in about three decades.

"It's unacceptable," Price said in what he described as the "note card" version of the discussion he plans to have next week at commissioners court. Dallas Morning News
Racism is alive and well in Dallas County Texas, and County Commissioner John Wiley Price, a Democrat and well known activist and all around trouble maker is leading the charge.
I am NOT a politically correct blogger, I will NOT call John Wiley Price an *African-American* simply because he is, as far as I know, NOT African. John Wiley Price is Black and is, in MY opinion, a racist of the 1st order. From a friend on Facebook:
He stages "boycotts" of White businesses in his district because he says only Blacks should deal with Blacks. He marches with the New Black Panthers and is rumored to be a member. He vandalizes cars, assaults whites, rigs elections, rigs county bidding and then claims harassment by the Feds.
None of this is an exaggeration in any way; an example is offered here.
Price has aroused local controversy during his time in office. During the 1980s and 1990s Price would lead protests for racial issues in the Dallas area. In 1991 during a protest, Price was accused of breaking the ankle of a white construction worker. In May 1992, Price was found not guilty of felony assault charges from the incident.  The verdict was rendered just days after the Rodney King riots in the Los Angeles area, and several jurors reported to have received threatening phones calls during the trial.[2] Among many other instances, Price received national media attention when he took offense at the use of the term "black hole" by a fellow commissioner.[3] His words were lampooned repeatedly by the media and radio talk show hosts including Rush Limbaugh [4]

Price again made headlines when he launched a profanity-laced tirade at a December 2009 Dallas County Commissioner's Court meeting over the ongoing investigation of impropriety among Dallas Constables. Price repeatedly pounded on the desk in front of him and responded to a call from County Judge Jim Foster for order by declaring that Foster should "Make me come to order!" [5]

In February 2011 Price got into a shouting match with Dallas lawyer Jeff Turner at a Dallas county commissioner's meeting. Turner repeatedly called Price a 'Chief Mullah' and 'tribal', terms that that Price took offense to and led him to ask Turner to speak to him in private. Price later stated that he interpreted "Mullah" as "Moolah", similar to the racial epithet "Moulie". The public confrontation resulted in a shouting match before Price asked out loud why all the speakers were white. When an audience member shouted, "You've asked respect of us. We demand respect from you," Price said "All of you are white. Go to hell". Price then headed for the exit and challenged the protesters to follow him and continue the discussion outside. At this point security personnel ordered the court to be cleared.[6] SOURCE
To further educate those not familiar with John Wiley Price:
In July 2011, Price and multiple associates were served with search warrants obtained by the Federal Bureau of Investigation arising out of acts of alleged public corruption. The warrant on Price's residence specified a search for data related to violations of the U.S. Code Titles 18, 26, or 31, specifically "Theft or Bribery Concerning Programs Receiving Federal Funds," tax evasion, fraud, false statements, money laundering, and "aiding and abetting and conspiracy to violate these statutes." [7] The FBI seized multiple assets belonging to Price. Price is currently being investigated by the FBI.[8]
To the best of my knowledge that investigation is STILL being conducted.
I am of the opinion that qualifications mean NOTHING to Price; all that matters is the COLOR of the skin of any particular person to hold an office or position. If Price had his way ALL of Dallas County would be administered by Black individuals, whether qualified or not, and his idea of *affirmative action* would be the order of the day.
Dallas County Sheriff Lupe Valdez has her OWN set of issues it appears.
Valdez, who is Hispanic, declined to be interviewed. In a prepared statement, she said, "We appreciate Commissioner Price's concern and understand his frustration since we share the mission to continuously promote diversity and inclusion."

"I never want to be the person that promotes injustice and inequality," Valdez said. "I have selected the best qualified person."
So, I have to ask; if your mission is to continuously promote diversity and inclusion, doesn't the next line about the best qualified person speak to the opposite?
Any time a person is promoted, regardless of the position, and that promotion is based on diversity and inclusion, the most qualified person for the job may not even garner consideration.
Dallas County is exhibiting a prime example of exactly what happens when the liberal progressivism of the Democratic Party is allowed to take control, a lot like what we're seeing in Washington right now.