Nelson Mandela, 20th century colossus, dies at 95
JOHANNESBURG (AP) – Nelson Mandela, who became one of the world's most beloved statesmen and a colossus of the 20th century when he emerged from 27 years in prison to negotiate an end to white minority rule in South Africa, has died. He was 95. SOURCE
A 20th century colossus huh?
It's kind of funny how a despicable radical like Nelson Mandela has been transformed by the media, the Communist and Socialist infiltrated media. It seems they forget, or more likely, totally ignore the fact that Nelson Mandela was an avowed Communist.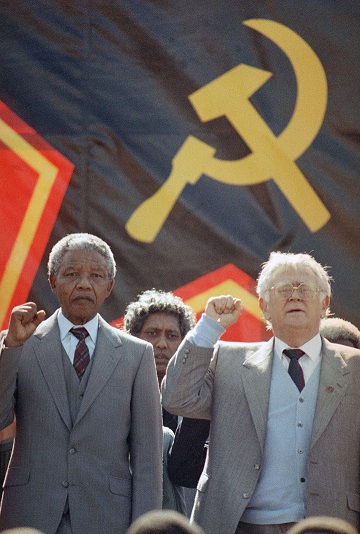 New Evidence Shows Mandela Was Senior Communist Party Member
Despite decades of Nelson Mandela denying that he was an official member of the South African Communist Party (SACP) during his Soviet-backed war on the Apartheid government, evidence uncovered recently by British historian Stephen Ellis shows otherwise. The new research confirmed that not only was the African National Congress (ANC) leader a member of the SACP, he may have actually been a senior official working with the party's Central Committee. SOURCE
Mandela was the co-winner The Nobel Peace Prize in 1993. Again, I find this terribly *funny*. But you have to remember; Barack Hussein Obama also won the Nobel Peace Prize for doing absolutely nothing. At least Mandela actually DID something; nothing that I would consider worthy of a Nobel Peace Prize though.
Nelson Mandela was a murderer.
Nelson Mandela was the head of UmKhonto we Sizwe, (MK), the terrorist wing of the ANC and South African Communist Party. At his trial, he had pleaded guilty to 156 acts of public violence including mobilizing terrorist bombing campaigns, which planted bombs in public places, including the Johannesburg railway station. Many innocent people, including women and children, were killed by Nelson Mandela's MK terrorists. 3 Things You Didn't (Want To) Know About Nelson Mandela
So, while many in this nation may send wishes that he rest in peace I send a different wish; BURN IN HELL YOU SON OF A BITCH! Don't let the sugar-coated reports of Mandela's supposed *greatness* fool you. Nelson Mandela was an EVIL person, a destructive Communist, but he got good *press*. Remind you of anyone?
And now the MSM is in the midst of a gigantic NEWSGASM over Mandela. Commies and Socialists love their fellows.