Harry Reid defends 'domestic terrorists' comments
(CNN) - In a blunt exchange that hit on a major American divide, Senate Majority Leader Harry Reid, a Democrat from Nevada, stood by his comments that militia groups involved in a ranch standoff are "domestic terrorists," while the state's Republican senator, Dean Heller, replied that he considers them "patriots."

The two men appeared Friday afternoon on KSNV's "What's Your Point?" question-and-answer show. SOURCE
Ladies and Gentlemen, I am going to say this as nicely as I possibly can; Harry Reid is a total MORON. I say that with apologies to ALL morons.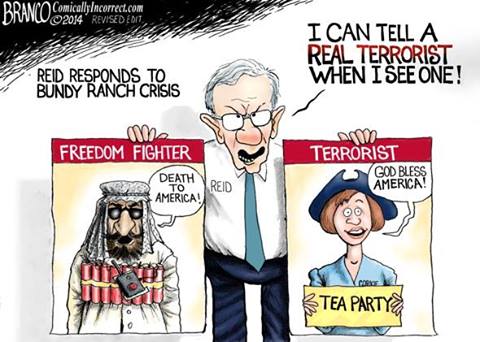 To the people of Nevada; I know all the excuses, I have heard ALL about how the decent folks of Nevada don't support Reid and how he is in office because of Union support in Las Vegas, and that may be well and true, but for crying out loud, how damned stupid can the Union people actually be?
Harry Reid is an embarrassment to the entire state of Nevada, and I have a lot of trouble making myself believe that there's not enough GOP and Conservative support there to get that old reprobate out of office.
Just to let my readers know; even though they have some good writers and great content I rarely use The Examiner as a source because they have entirely too many pop-ups and are difficult to navigate, but in this case, because it's Charlie Daniels, I made a rare exception.
Charlie Daniels: Harry Reid should be in jail for 'impersonating an American'
On Thursday; Senate Majority Leader Harry Reid called supporters of the Bundy ranch "domestic terrorists" and questioned their patriotism. Country music star Charlie Daniels responded the same day with a tweet saying Reid should be in jail for "impersonating an American."

"Harry Reid you should be put in jail for impersonating an American," he tweeted. SOURCE
If you want to know what is wrong with America look no further than Washington, DC., New York, California and the Democratic Party and its leadership.
Nevada; Harry Reid needs to go, for the good of this entire nation, but most of us can't do a thing to get him out of office, most of us don't live in Nevada, but you do, and YOU can, just get out the vote. Do whatever it takes. Harry Reid has got to go!