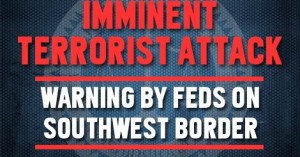 Imminent Terrorist Attack Warning By Feds on US Border
Islamic terrorist groups are operating in the Mexican border city of Ciudad Juarez and planning to attack the United States with car bombs or other vehicle born improvised explosive devices (VBIED). High-level federal law enforcement, intelligence and other sources have confirmed to Judicial Watch that a warning bulletin for an imminent terrorist attack on the border has been issued. Agents across a number of Homeland Security, Justice and Defense agencies have all been placed on alert and instructed to aggressively work all possible leads and sources concerning this imminent terrorist threat.

Specifically, the government sources reveal that the militant group Islamic State of Iraq and Greater Syria (ISIS) is confirmed to now be operating in Juarez, a famously crime-infested narcotics hotbed situated across from El Paso, Texas. Violent crimes are so rampant in Juarez that the U.S. State Department has issued a number of travel warnings for anyone planning to go there. The last one was issued just a few days ago.

Intelligence officials have picked up radio talk and chatter indicating that the terrorist groups are going to "carry out an attack on the border," according to one JW source. "It's coming very soon," according to another high-level source, who clearly identified the groups planning the plots as "ISIS and Al Qaeda." An attack is so imminent that the commanding general at Ft. Bliss, the U.S. Army post in El Paso, is being briefed, JW's sources say. The Department of Homeland Security (DHS) did not respond to multiple inquiries from Judicial Watch, both telephonic and in writing, about this information.

The disturbing inside intelligence comes on the heels of news reports revealing that U.S. intelligence has picked up increased chatter among Islamist terror networks approaching the 13th anniversary of the 9/11 attacks. While these terrorists reportedly plan their attack just outside the U.S., President Obama admits that "we don't have a strategy yet" to combat ISIS. "I don't want to put the cart before the horse," the commander-in-chief said this week during a White House press briefing. "I think what I've seen in some of the news reports suggest that folks are getting a little further ahead of what we're at than what we currently are."

The administration has also covered up, or at the very least downplayed, a serious epidemic of crime along the Mexican border even as heavily armed drug cartels have taken over portions of the region. Judicial Watch has reported that the U.S. Border Patrol actually ordered officers to avoid the most crime-infested stretches because they're "too dangerous" and patrolling them could result in an "international incident" of cross border shooting. In the meantime, who could forget the famous words of Obama's first Homeland Security Secretary, Janet Napolitano; the southern border is "as secure as it has ever been." SOURCE
As I said in this post A Global Jihadist Civil War, Let Them Fight, ISIS and al-Qaida are involved in a civil war for control of radical Islam, but that civil war means nothing to them, either side of their internal battle, you see, they will stop fighting each other, temporarily, if the word comes down to *KILL the INFIDEL*; that's us, we are the infidel that the hate so badly.
Some in the media have launched on Obama for making this statement regarding American preparedness for a direct attack on American soil: "I don't want to put the cart before the horse. We don't have a strategy yet".
Once upon a time, in an America far far away, there was a strategic plan for every possible war-fighting scenario imaginable; it was called WAR GAMES, and it was kept on a highly secured computer system that was sent out to military facilities all across the USA. Martin Marietta managed the system and it was a real world battle plan staged by this *super computer* based on every bit of war-fighting methods that could be fed into it.
The computer was fed information and it gave very accurate and doable plans for how to conduct your action, right down to the number of rounds and meals needed. It covered ALL possibilities!
I was able to see this machine generate 2 different scenarios a few years ago.
One time I saw a tank battle set in Europe where American and Russian forces squared off and had at it. This was conducted at a U.S. military base using REAL troops, tanks, helicopters and all auxiliary support needed in the field, and minus the death and destruction of a REAL battle, this was supposed to be as close as it could get to reality.
The 2nd time I saw *WAR GAMES* at work was on another U.S. military base and the scenario was a Bosnian village mock-up, all the equipment, all the bells and whistles, *Black Ops*, all of it.
Barack Hussein Obama may not have a strategy, he IS the most clueless SOB I have ever seen, but the military used to have it all, in the hard drive, ready to go, any mission that could be conducted anywhere in the world, all they had to do was spin it up and follow a plan that took everything imaginable into consideration.
Maybe Obama took *WAR GAMES* out of the *toy box*. Maybe that's why we have NO strategy in place, OR, maybe I'm right and Obama really IS that clueless.