State health officials: 2nd Ebola case in Texas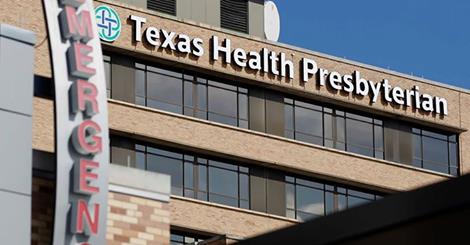 DALLAS (AP) — Health officials say a health care worker at Texas Health Presbyterian Hospital who provided care for the Ebola patient hospitalized there has tested positive for Ebola in a preliminary test.

A statement posted on the Texas Department of State Health Service's website Sunday says "confirmatory testing will be conducted by the Centers for Disease Control and Prevention in Atlanta."

Officials say the health care worker reported a low grade fever Friday night and was isolated and referred for testing. Preliminary test results were received late Saturday.

Dr. David Lakey, commissioner of the Texas Department of State Health Services, says officials have "been preparing for this possibility." SOURCE
OK, now I have to ask; aren't the proper procedures being followed by Presby to keep this Ebola virus from spreading to others?
You see medical personnel dressed in FULL Haz/Mat suits, wearing respirators and all of the necessary gear to keep them from being infected by, well, you have to presume, from anything, or so we're told.
Did someone at Presby fail to follow procedures for protection against an infectious disease or is Ebola actually spread in ways other than contact with the patient and/or their bodily fluid(s)?
Health officials have interviewed the patient and are identifying any contacts or potential exposures.
Admirable actions on the part of health officials, truly admirable, and I have to admit, I have no idea who this person is that's the latest to be diagnosed with Ebola, but what about this 21 day incubation process we keep hearing about? Suppose this person is a *social butterfly* or a *party animal* and has been in contact with great numbers of people?
It seems that it's only been a week or so, 10 days maybe, since we began to hear about Thomas Eric Duncan, the person that died from Ebola on Oct.8th.
Is it possible that Ebola is manifesting itself in LESS than 21 days? Is it speeding up its incubation period? Is it MY imagination? Am I that far off on MY numbers?
And suppose Ebola does spread by other than direct contact with bodily fluid(s)?
What if it truly is an airborne virus? How many people do you suppose this healthcare worker has come in contact with over the last several days? How many others have those people come in contact with?
These are legitimate questions and concerns in my opinion, especially considering the degree of protection you see being worn by medical personnel in all the news footage.
How do WE know that the guys doing all the interviews actually KNOW what they're talking about?
Don't take me wrong, I'm not trying to become an Internet Doctor, I don't play a Doctor on TV and I didn't stay at a Holiday Inn last night, I'm just a concerned senior citizen with preexisting health conditions that make me very susceptible to infectious diseases.
UPDATE: Infection appears to have come from A Clear Breach of Safety Protocol.
Here's a video one of my readers sent me this fine Sunday morning.