Dallas to shine light on racial justice with Facing Race event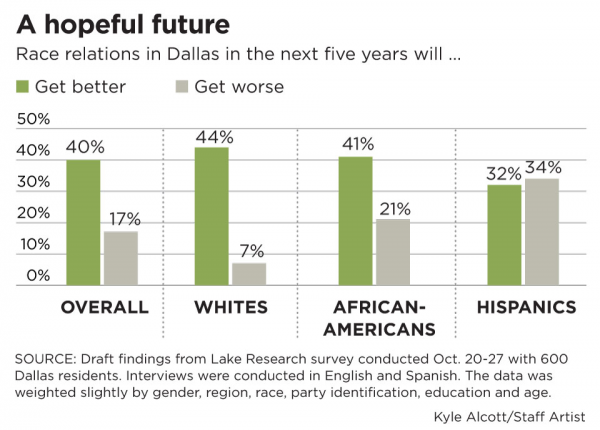 A national conference dedicated to racial justice issues is coming to Dallas this week, on the heels of fresh poll results showing Dallas residents are ready to confront discrimination for the sake of their children. SOURCE
Is there a huge racial division within the population of Dallas? Certainly. How about any other big city, major city in America? Well of course there is. The racial divide in this nation is not so much a *divide* as it is a chasm of insurmountable depth and hatred. Blatant racism runs rampant in this nation. That is NOT a supposition; it is a fact.
I believe that the cause of this chasm was once the sole responsibility of the White man, from at least the 1960's and early 1970's all the way back through the history of this nation, racism and racial mistreatment were, in many areas, simply a way of life that was tolerated by many and bolstered by a small minority of the narrow-minded people.
You have to think of this; until the 1970's organizations like the Ku Klux Klan were all over this nation. They had an ebb and flow that was never predictable but they fostered racial segregation, hatred and violence at every turn, and in much smaller numbers than is days past, they still do.
Fast forward past all the time consumed by the Civil Rights movement and take a look at today, late 2014, racial issues and violence are still a very big part of the news.
Now we're going to have a Facing Race event designed to get to the heart of racism and to possibly discover a way to end racial divisions. That is a marvelous idea, a bold move and a worthy use of time and money. Right?
Maybe not so much. Maybe the Black community, as well as Hispanics, and Asians need to take a look at how they do business, look at their own actions and ask themselves if it's possible that THEY are the ones that are propagating racism by their membership in some independent professional organizations and the way they name that organization?
I want everyone reading the following to consider one thing; if you replaced the words Black, Negro, Colored, Hispanic and Asian with the word WHITE, wouldn't those White people involved in such an action, educational endeavor or business venture be called vile racists?  
There are many organizations that are racist simply by the very name they use to identify themselves; Black Police Officers Association, Black Firefighters Association,, Black Chamber of Commerce, Hispanic Chamber of Commerce, United Negro College Fund, Hispanic History Month, Martin Luther King Day, Asian History Month, Black Entertainment Television, Black History Month.
Then there's this next batch; American Association of Blacks in Energy, Association of Black Psychologists, National Association for the Advancement of Colored People, National Association of Black Accountants, National Association of Black Hotel Owners, Operators & Developers, National Association of Black Journalists, National Black Business Council, National Black MBA Association, National Council of Negro Women, National Society of Black Engineers, Organization of Black Designers, the Congressional Black Caucus, and my personal favorite, the National Black Nurses Association.
My Mother was a nurse, she entered nursing during WWII and I'm pretty sure there was racism within the Service but a wounded troop was just that, a wounded troop, and all the Nurses saw was RED, as in the blood he was losing.
Yes indeed, racism is alive and well in 2014 I'll be called a racist just because I wrote this piece pointing out the racism of non-Whites, that's the breaks, but until you remove the BLACK racists from the equation nothing is ever going to change for the good.
Most, and I do say MOST, White folks have put racial issues behind them. Isn't it time for the Black, Hispanic and Asian communities to do the same?