Family: Boy's fatal shooting could have been avoided
CLEVELAND (AP) — The family of a 12-year-old boy fatally wounded by a Cleveland police officer said surveillance video of the shooting shows that if the officer had not acted so quickly the youngster would still be alive.

The video made public on Wednesday shows Tamir Rice being shot within 1½ to 2 seconds of a patrol car stopping near him at a park in Cleveland on Saturday. It shows the boy reaching in his waistband for what police discovered was a pellet gun that shoots non-lethal plastic projectiles. He died the next day.

Tamir's family said in a statement released by their attorneys that they hope Cleveland police and Cuyahoga County prosecutors "thoroughly examine" what happened at the park that day.

"It is our belief that this situation could have been avoided and that Tamir should still be here with us," said the family. "The video shows one thing distinctly: the police officers reacted quickly." SOURCE
Yes indeed, this shooting could have been avoided and in all probability sweet little Tamir would be at home having Thanksgiving dinner with his wonderful family … IF, and I stress IF that wonderful family had only taught this wonderful child one thing; don't pull a gun on a Police Officer, real gun, fake gun, whatever the case may be, if you pull something that LOOKS like a gun you are, once again, in all probability, going to get your ticket to hell punched for *the fast lane*.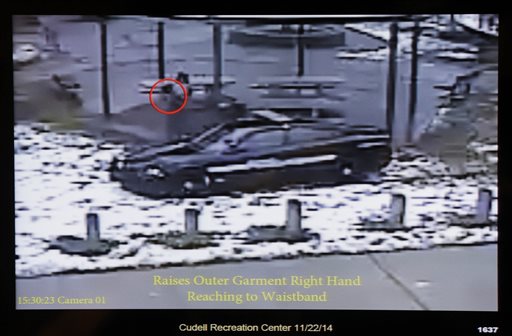 This still image taken from a surveillance video played at a news conference held by Cleveland Police, Wednesday, Nov. 26, 2014, shows Cleveland police officers arriving at Cudell Park on a report of a man with a gun. Twelve-year-old Tamir Rice was fatally shot by a Cleveland police officer Saturday, Nov. 22, 2014, after he reportedly pulled a replica gun at the city park. (AP Photo/Mark Duncan)
The Rice family says the Officer fired too soon, they say he fired in 2 seconds of arrival, and that is probably the truth, the 2 seconds part that is, you see, if you're faced with an individual that is carrying a gun and said individual is obviously reaching for that gun, if YOUR reactions are not fast enough then YOU may well be the one that's shot, maybe dead and never going home to your family.  
I know guns pretty well and I have to say this; if confronted by some ass-clown putting his hand on what looks like a very real gun, and this gun looks incredibly real, that ass-clown will be shot. That's the way it goes, that is how the game gets played, and a game is what so many of these kids think life is at Tamir's age. 
What they don't realize is this; in real life, there's no reset button.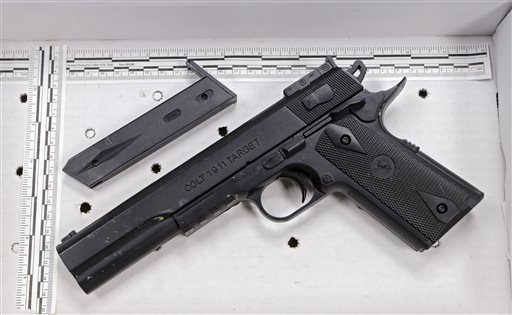 This fake handgun taken from 12-year-old Tamir Rice, who was fatally shot by Cleveland police over the weekend, is displayed after a news conference Wednesday, Nov. 26, 2014. The 12-year-old was shot at a city park after he reportedly pulled the Colt 1911 replica on arriving officers. (AP Photo/Mark Duncan)
I am sorry for the loss the Rice family has suffered; I truly am, but that loss was due to a conscious decision made by their child. He engaged in a deadly game and he lost.
Thank God the Officers involved weren't hurt, I hope their Department and the citizens of Cleveland see it this way and to the Officers I say; hold your head up with pride, enjoy your families on this day and all days to come, sleep well in knowing that YOU did your job in the manner in which you were trained and you did it well.