Prominent Putin critic Boris Nemtsov shot dead near Kremlin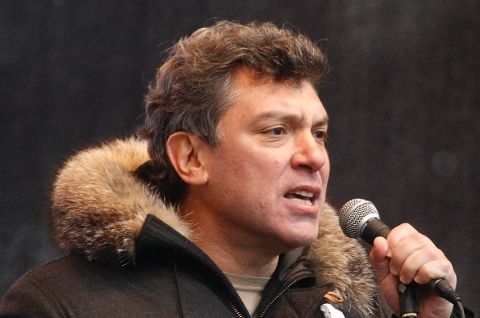 MOSCOW (AP) — Boris Nemtsov, a charismatic Russian opposition leader and sharp critic of President Vladimir Putin, was gunned down Saturday near the Kremlin, just a day before a planned protest against the government.

The death of Nemtsov, a 55-year-old former deputy prime minister, ignited fury among opposition figures who assailed the Kremlin for creating an atmosphere of intolerance of any dissent and called the killing an assassination. Putin quickly offered his condolences and called the murder a provocation.

Nemtsov was working on a report presenting evidence that he believed proved Russia's direct involvement in the separatist rebellion that has raged in eastern Ukraine since April. Ukraine and the West accuse Russia of backing the rebels with troops and sophisticated weapons. Moscow denies the accusations.

Putin ordered Russia's top law enforcement chiefs to personally oversee the probe of Nemtsov's killing. SOURCE
I am a harsh critic of Barack Hussein Obama, every person in his evil regime as well as the Democratic Party, and of late I have had harsh, rude words for nearly every member of the GOP as well.
Some people on the right are terrified, they claim that the Democrats have *death camps* and that anyone opposing Obama will be locked away. A funny thing; when Bush was POTUS there were people on the Left that said the same thing.
The Left calls people like me, and most of my readers *dissidents*, I call people on the Left fools and Obamabots so I guess it all comes out in the wash.
The fact is; there are no *death camps*, if the current regime, or any other regime for that matter, really wants you dead, you won't be going to a *death camp*, someone will walk up to you and start pumping rounds into you and then they'll walk away, never to be found, arrested, prosecuted or punished.
Those are the types of Executive Orders I fear, the ones that end with the words *to be eliminated with extreme prejudice* tacked on the end. 
Of course there are people from ALL sides of the political spectrum that will tell you, *No President would ever do something, or order something of that nature, this is a free nation and we can say anything we want to say…* 
Oh really?
Many great quotes came from the movie The Godfather, they applied to politics in the time frame of the movie and the time leading to their present day as depicted, but most of them are totally applicable today.
Politics and Crime, they are the same thing ~Michael Corleone~
My favorite quote from the entire series was this little tete a tete between Michael and his fiancé Kay.
Michael: My father is no different than any powerful man, any man with power, like a president or senator.
Kay Adams: Do you know how naïve you sound, Michael? Presidents and senators don't have men killed.
Michael: Oh. Who's being naïve, Kay?
I'm not accusing any President, past or present, of having someone killed but the Clinton Death List still comes up from time to time, just sayin'…
Obama is not desperate, he doesn't have to be, he can rule by Executive Order and there are only a small handful of Senators and Congressmen that have the guts to stand up to him.
The Joint Chiefs don't have the courage either; they have been decimated by Obama and his purge of high-ranking Officers that DID have the fearless pugnacity to stand and call a spade a spade.
There must be a few left in the Hallowed Halls with courage to do so, as well as in the military, but they certainly need to make their presence known.
There are some Conservative pundits and bloggers that lay their necks on the chopping block every time they publish a post, and yes, we DO know the possibilities we face, but there is one thing my children and grandchildren will know for all time; I stand for what is RIGHT and will do so until my dying day!
If you want to help me keep up this work please, drop a few dollars into the PayPal for me, all donations are greatly appreciated and help me to continue the work I do in spreading the truth!